"The experiences you can gain as a placement student are invaluable - especially in an industry such as ours where it can seem impossible to get a foot in the door."
Placement company
National Theatre and Young Vic Theatre
"I had attended a summer school at Surrey a few years previously and loved the experience of living on the campus. The campus is very green, has great transport links to London and really felt like a community.
When I looked for courses I was very aware of the learning and teaching methods each course used – the ways that I would be working and assessed. I wanted a course that was quite balanced in terms of practical workshops versus seminars and lectures. Some essays, some practical assessments, but more importantly, no written exams!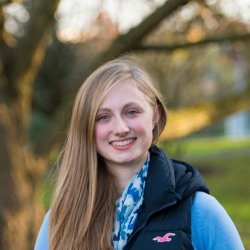 Alice Bentham
Surrey experience
It's definitely worth coming to an Applicant Day to really get a feel for what being a Surrey student would be like. You get a taste of a sample seminar and a practical workshop, as well as getting to speak with current students and probe them about their experiences!
I have loved theatre for as long as I can remember, but until someone suggested to me that a theatre degree was an option, I had believed that my only options were either actor training or a drama degree which was too text-based for me! I chose to do Theatre and Performance at Surrey because it was such a broad course. It matched my interests because I knew I wanted to work in theatre, but didn't know where within that. The structure of the course gave me a base understanding in many areas before then choosing modules according to my interest later on.
"We really get to integrate theory and practice."
Our programme is really collaborative – not only have I worked with everyone in my year group, but also in the second semester of my first year I got to work on second and final year projects, meaning there's a real sense of community across the year groups of the Theatre and Performance course.
The academic staff are brilliant. The lecturers know our names, and take a real interest in our learning. They're always available in office hours or via email to offer support. We're also able to take advantage of being part of the Guildford School of Acting, so their specialist Acting or Production Skills lecturers will often hop over to teach on our course on the relevant modules.Our facilities are excellent. We have numerous rehearsal studios which we share with GSA, in addition to the Ivy Arts Centre where we can see shows for £2 and PATS Dance studio which can also be used as an additional performance space. The technical department are great, and we've even used the wider campus as a site for performance walks when applicable!
I lived in band C accommodation on campus in my first year. I loved living away from home, and quickly made friends with people in my flat. The communal areas are cleaned regularly and despite what people say, I never had to queue for a shower! Living close to lectures and the Library made those 9am starts a lot easier!
In my first year, I joined the Ballroom and Latin Dance Club, one of the many sports clubs available at Surrey. I absolutely loved learning a new skill, meeting so many people from other courses, and was able to compete at University competitions in Bath and Blackpool for Team Surrey. I also joined Stage Crew, who amongst other things, provide all the sound, lighting and video at Rubix, the club on campus. Here I was able to supplement the technical knowledge I learnt on the course and put my skills to the test! It's great when other students are talking about the lighting or how much fun they had at Colours Ball, End of Year Show and other University events and being able to say 'I contributed to that'. 
In my second year I was elected President of the Theatre Society. It was great to be able to share my passion for theatre with students from across the University, not just our course. We also reached out to groups and charities locally, and it was great to be able to represent Surrey in the wider community. The campus is beautiful, the people are lovely, and you'll never struggle to find something to do! 
The church scene in Guildford is really varied, with lots to choose from. Through my church I've met families and different types of people, which has added a whole other dimension to my experience of the Surrey community.  Also, my church meets at Yvonne Arnaud Theatre, so it's combining my two loves!
Placement experience
I split my Professional Training placement year between the National Theatre and the Young Vic Theatre, in London.
My first placement was in the production department at the National Theatre, assisting Production Managers at the very heart of the organisation.
I joined the department during the production period for As You Like It, from the first day of rehearsals until press night. A major part of my role was assisting the Production Managers in the day to day running of pre-production work. Examples of tasks included research, sourcing materials, liaising with suppliers and purchasing items using the NT's purchasing systems. I was also expected to act as runner to the production team during fit-ups and onstage production periods. As You Like It was particularly tech-heavy as the scene change involved flying 30+ chairs and tables, which had to be concealed from the audience until the last possible second.
I took on a lot of responsibility not long into my placement after my Production Manager had to unexpectedly take some time off. I took initiative and stepped up to provide additional support to the Deputy Production Manager, taking minutes in weekly production meetings and rigging meetings and being assigned full responsibility for sourcing items such as confetti and snow, liaising directly with the designer throughout. They were so impressed that I was asked to continue these responsibilities as Production Assistant on his return.
Through my placement at the National, I connected with the Technical Director at the Young Vic Theatre, who was able to create a placement for me at the Young Vic, just down the road from the National.
My time at the Young Vic was split between stage management and the lighting department. I assisted the stage management team from the first day of rehearsals through to press night on Joe Penhall's Blue/Orange starring David Haig, Daniel Kaluuya and Luke Norris. My main duties involved sourcing props, rehearsal furniture and assisting with the upkeep of the rehearsal room. It was important that we responded quickly to any fresh demands that emerged during the rehearsal period, whilst still negotiating with suppliers to keep items at competitive prices. Furthermore, because audience members were guided through a replica of the set before they were seated, the props had to be produced to a level of filmic detail. A highlight was the detail of the research I had to produce - I even conducted research at the Welcome Trust into historic mental health-related promotional materials for all of the paper props used in the production.
During tech rehearsals for another show 'Cuttin' It', I was seconded to assist the stage manager so that he could remain in rehearsals. I provided him with support in prop sourcing which I'd developed a proficiency for on Blue/Orange.
I worked with Young Vic Lighting department on a period of maintenance, and then a community show entitled 'The Curtain'. During the maintenance period I learnt and developed a lot of hard skills and knowledge relating to the maintenance of lighting fixtures and cables. When it came to the show, I was fully involved in the rigging and focusing during the fit-up, and I took on responsibility for the practical lanterns, which were crucial to the show, seeing to the maintenance of them throughout technical rehearsals and performances. 
"Completing my Professional Training year at such a high calibre of organisations was definitely my greatest university achievement of 2016."
The experiences you can gain as a placement student are invaluable - especially in an industry such as ours where it can seem impossible to get a foot in the door.
I made a real effort during all of my placements to introduce myself and make contacts around each organisation, which will be an advantage when I'm looking for employment after graduation.
As a result of my developed aptitude in lighting through the Young Vic placement, I was able to successfully design the lighting for a production at the Yvonne Arnaud's Mill Studio at the beginning of September.
Taking a placement year gave me a refreshed sense of determination for my final year of study. And a lot of the knowledge I gained on placement has directly informed and supplemented my learning on modules in Final Year. If asked, I wouldn't exchange my experience for the world."
Discover more about our performing arts programmes, including our BA Theatre and Performance. 
Webinars
Join a webinar and speak to our current students