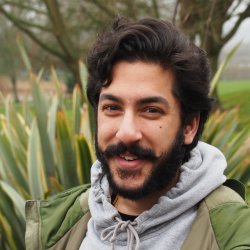 Amar-Harjeet Singh Sohanpal
"I like everything about my course, but mainly the overall understanding of quantum physics and quantum engineering which has really got me engaged."
Course
Nanotechnology and Renewable Energy
"I first became interested in nanotechnology while I was studying for my undergraduate degree in Electrical and Electronic Engineering at Surrey. In my final year, I picked a module in nanoscience and nanotechnology, and another in semiconductor devices. These were taught with such passion by the lecturers that this was enough to convince me to study further with an MSc in Nanotechnology and Renewable Energy.
I chose to stay at Surrey for my Masters course for a number of reasons. For one thing, the Advanced Technology Institute (ATI) is at the forefront of nanotechnology in the UK which meant that I'd be taught by academics who are renowned in their field.
Also, I knew most of my lecturers from my undergraduate programme which meant the transition to the Masters course was easy and I didn't have the daunting task of starting again.
I feel passionate about my field of study because it is literally the future of engineering, enabling technologies such as autonomous cars, augmented reality, renewable energy, and advanced devices which improve human lives.
I like everything about my course, but mainly the overall understanding of quantum physics and quantum engineering which has really got me engaged. It's also fascinating to learn about how nanotechnology is being used in different fields, such as in the fight against cancer.
The tutors on my programme are really helpful if you need them for anything – large or small – and the facilities in the ATI and the materials building are all impressive. My favourite area is the Ion Beam Centre within the ATI. This houses a huge particle accelerator (which only a handful of universities have), and is where I conducted my undergraduate degree project and am now undertaking my Masters project.
The University is a wonderful place with lots of calm, green spaces. There's plenty to do on campus and nearby, however you like to unwind – whether that's nightclubs, comedy clubs or skating at the Spectrum. One of the best things I've done at Surrey is joining MADsoc, the music and drama society, which puts on plays every semester and weekly improv nights. I've also played for a local football team for nearly three years which has allowed me to step away from university life and meet local people in the area.
When I complete my Masters, my aim is to find a job in the private or public sector – perhaps in the defence or semiconductor industry, or a sector involving lasers or ion beams – where I'll be able to apply my knowledge to real world challenges and work on hands-on projects. I'd also be interested in exploring my area of interest in even greater depth in the future by undertaking a PhD."
Discover our programmes in Electrical and Electronic Engineering, including our MSc in Nanotechnology and Renewable Energy.