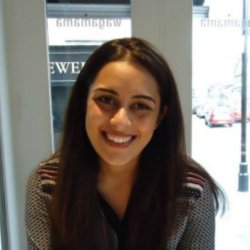 Amrita Naul
"Studying for my postgraduate law degree allowed me to increase my knowledge in terms of international law and delve deeper into pertinent issues within the international forum."
Amrita Naul graduated in 2011. She now works as a project development officer for the United Nations Office for Project Services (UNOPS) in Nairobi, Kenya.
What attracted you to choose Surrey and to study your course here?
I initially chose the University of Surrey because it was the only one offering a Masters in international environment law. However, when I started, the course was no longer being taught. I had to re-think my course choices and chose a few modules that offered me more diversification in terms of international law, which I would not have received if I studied the course I wanted, so maybe it was a blessing in disguise!
Considering I was one of the best performers in all my modules, I think it was definitely the best choice for me. The University was also a great choice because of the sports centre and the homely feel Guildford offered. It's also a bonus it's only a short train ride to London. It goes without saying that the University was one of my choices because of its exceptional teaching reputation, which I've noticed has managed to increase since I graduated.
What were the highlights of your time at Surrey?
Socially, I had the opportunity to meet so many new people during my courses from different places around the world, it's always interesting to know why people chose the degree they were pursuing. Academically, well nothing could top getting a distinction for my studies!
How did you change as a person during your time at Surrey?
Surrey made me much more aware of myself, and instilled discipline in me. A lot of the LLM was self-study which if wasn't carried out left you behind in class with no idea what was going on and extremely overwhelmed. Creating a study schedule and sticking to it made sure that I was disciplined in my approach to my studies, which I still use now at work. I make sure I have a work plan with timely schedules to guide my work. Surrey wasn't just a place in which I furthered my education, I became much more self-aware and understood what I wanted to make of my future and how to achieve it.
What do you find most enjoyable about your job and why?
Every day is very different and the fact that nothing becomes routine in your work life is the most enjoyable thing about my job. In one day, I can review three legal agreements, initiate a project in Uganda and have a meeting with dignitaries from the Japanese government for a project in Somalia. So as cheesy as it may sound, I love my job. I will say that when it comes to budgets that's probably my least favourite, I've never been very great with numbers!
What is your career highlight to date?
In the past year working at UNOPS I have been part of key partnership creations with the United Nations Environment Programme, as well as drafting key guidelines on preparing a waste management system in Africa that relates to climate change in the continent.
What would you consider to be the benefits of studying for a postgraduate law degree?
If you're looking to get into an international organisation like I was, there is a need to have a postgraduate degree to your name. Studying for my postgraduate law degree allowed me to increase my knowledge in terms of international law and delve deeper into pertinent issues within the international forum.
What are your top tips for students aspiring to work in your profession?
You really have to be dedicated in pursuing international law in an international organisation. You'll get a lot of rejections but you can't give up. I was unemployed for a year before I got a job as a volunteer at UNOPS, which then materialised into a job – it's true what they say you have to start at the bottom. If you want to get that job in the UN or whatever international organisation, take that internship or volunteer position, you never know what will come of it!
Discover our courses in law.