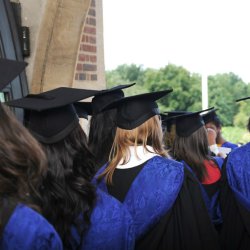 Ana Pascual
"I started working in research for a veterinary group after graduation but now I am working as a veterinary surgeon in small animal practice."
Course
Veterinary Microbiology
What attracted you to choose the University of Surrey and to study your course here?
I had attended a Veterinary Pathology conference at the University of Surrey when I first moved to the UK without knowing much about the University. During the conference I met Professor La Ragione, who encouraged me to pursue my dream career. From that moment on I stayed in contact with him and found out more information about what the University of Surrey had to offer.
What is your strongest memory of your time at Surrey - what do you picture first when you think of being here?
The lake! I remember exploring the campus one evening with a friend on my second week here and it was a lovely time.
I could not choose just one memory of my time at Surrey; there are a lot of them that make me smile, from very interesting and interactive lectures, to my time in the Library with my classmates surrounded by flashcards... and sweets! I really enjoyed that!
What were the best things about your course?
The director and the tutors on the MSc Veterinary Microbiology course are knowledgeable professionals, helpful counsellors, good listeners and very encouraging with the students.
What do you do now and what do you find most enjoyable about your line of work?
I started working in research for a veterinary group after graduation but now I am working as a veterinary surgeon in small animal practice. My favourite part of it is when I get a chance to work in our in-house lab where I check my own skin slides for external parasites or analyse urine samples.
How did you decide what career to go into? How did your time at Surrey help you to decide?
Life has been taking me where I needed to be I guess, however my degree from Surrey has definitely made me a stronger candidate for different positions within the veterinary and biomedical industry. I have no doubt it will back me up when I finally decide to either carry on with my clinical work becoming a specialist in dermatology, or stepping out of practice to go back to research.
What aspects of being connected with the alumni network are most important or of most interest to you and why?
It makes it easier and quicker to find out about new courses, cpd courses, conferences and seminars of interest as well as career opportunities and events happening at the University, as I still live very close by!)
What are your top tips for students aspiring to work in your profession?
It may sound very typical but my advice for everyone is persevere. That is the key. Things do not always go smooth, life does not always smile at us but with a bit of patience, hard work and perseverance we can achieve whatever we want.
More about our degrees in the field of Veterinary Medicine and Science, including our MSc Veterinary Microbiology.