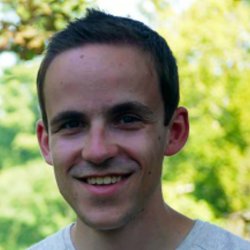 Andy Smith
"I feel like my degree has not only given me extensive internet computing knowledge which will be useful in my career, but also important skills including project management, time-keeping and professional communication."
"After my Computer Science BSc, I stayed on at Surrey to take up an MSc in Internet Computing. I've always had an interest in the internet and related ever-evolving technologies, and wanted to expand my knowledge just that little bit more before stepping onto the career ladder, plus the campus and staff are lovely here – Surrey feels like home to me.
You're well supported when you come to Surrey. I have fortnightly meetings with my dissertation supervisor, who guides me through my project, keeping me on track. Lecturers, too, make themselves available outside of seminars and respond quickly to emails.
Some of my favourite modules include Agile Web Development and Enterprise Systems Development as they both focus on current technologies for building dynamic applications, and in terms of facilities, both Windows and Linux computers are available for use at any time, which is extremely useful.
You'll get the opportunity to network and develop links with industry on Surrey's MSc in Internet Computing, too. We've had several guest lecturers visit and we've not only been able to ask them questions about the industry, but also make key contacts.
Outside of my studies, I've worked with the Head of the Department of Computing, departmental staff and course representatives to organise the annual departmental sports day. I also received the chance to DJ for 1,000 students in the Students' Union nightclub during my MSc, which was a massive personal highlight for me.
I feel like my degree has not only given me extensive internet computing knowledge which will be useful in my career, but also important skills including project management, time-keeping and professional communication. I've been lucky enough to have been offered my dream job already; I'm looking forward to starting as a Graduate Developer for the BBC after my course ends."
Learn more about our computer science programmes.