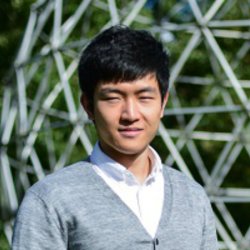 Ang Li
"I was attracted by the University's passion and attitude, and this has continued to impress me."
Course
Mobile Media Communications
"I had just graduated from an engineering school in France when I decided to come to Surrey.
Digital signal processing is a basic part of electronic engineering and strongly linked to maths. I realised that I wanted to fully extend my knowledge of this very important discipline and Surrey – with its extremely rich academic resources, excellent staff and rigorously organised courses – seemed the perfect place for me to do that.
I was attracted by the University's passion and attitude, and this has continued to impress me throughout my masters course. Two of the most important things the course has given me have been the opportunity to follow the way a lecturer thinks in class and the chance to work independently through course work. These methods of learning have increased my critical thinking abilities, and I've valued this even more than any one individual module.
The academic staff have always been willing to give me advice and support. Working alongside people who are deeply engaged in academic research has not only enabled me to acquire essential knowledge, but also shown me the importance of having a professional working manner and also remaining humble.
For my dissertation, I chose to focus on a new carrier type for future 'internet of things' applications. The 'internet of things', where billions of machines will become connected, is becoming one of the major challenges for future communications networks. With the 5G/6G Innovation Centre on campus, I've been able to study this field in depth, gaining knowledge from researchers who are working at the forefront of 5G and 6G technology.
Two of the best things about life at Surrey are the campus and the Surrey Sports Park. The Sports Park is a wonderful place where you can strike a proper balance between work and leisure. It has brilliant facilities which have allowed me to relax while enjoying a number of activities including swimming, basketball and climbing."
Discover more about our electrical and electronic engineering programmes, including our MSc Mobile Media Communications.