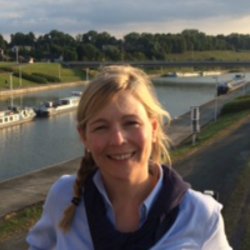 Anke Winchenbach
"I clearly made the right decision. I am very happy to be part of the researcher community at Surrey!"
Course
Hospitality, Tourism, Transport and Events
"I joined the University of Surrey as a part-time PhD researcher and ESRC scholar in January 2016. I also work part-time at NEF Consulting (the consultancy arm of the New Economic Foundation), supporting a diverse range of clients from private, public and third sector organisations on their journey towards a future where people and the planet matter.
Previously, I managed the innovative 'Total Impact Measurement and Management' (TIMM') project for The Travel Foundation in partnership with PwC, which measured TUI Group's holistic impact in Cyprus.
I hold a Masters with distinction in Tourism, Environment and Development from King's College London, and have worked in several managerial roles in travel and tourism for more than 20 years in my native Germany and the UK.
"Surrey scores high in student satisfaction surveys based on the excellent support they are providing for students."
My PhD topic is: Diversifying with dignity: Coastal Tourism Employment in the UK. I plan for it to bring innovative theoretical insights to understanding employment diversification in times of economic pressures and declining natural resources. As economies diversify, there are persistent challenges for new forms of employment to offer genuine alternatives to traditional forms of employment.
Utilising dignity as guiding concept, the project will explore how people experience and understand their lives in relation to their work.
The proposed research will use tourism employment in the context of fishing towns in Cornwall as case study, which is expected to develop implications for the service economy and wider employment studies.
"Surrey is considered as one of the leading universities in tourism and hospitality management, and has an excellent reputation for cross-discipline research and collaboration."
My research question developed after reading NEF's "Blue New Deal" report, which suggests that tourism has the potential to offer good jobs while protecting the marine environment for strengthening coastal economies in the UK.
The research will contribute to the theoretical development of the concept of dignity and will add to the debate around the value of service sector employment.
The final output will contribute to enabling policy makers and businesses to manage meaningful livelihood diversifications, which protect and promote dignity, whilst positively affecting efficiency and profitability of destinations and businesses; and ultimately supporting the sustainable regeneration of marginalised areas."
Discover our programmes in hospitality, events, tourism and transport including our PhD Hospitality and Tourism Management.