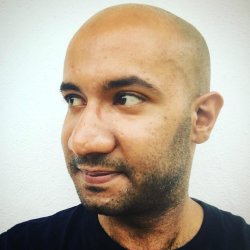 Ankur Banerjee
"A year abroad challenges you to push yourself out of your comfort zone, personally, professionally and even culturally - you have to throw yourself into things you've never done before."
Study abroad location
Nanyang Technological University, Singapore
What attracted you to choose Surrey?
I was an international student at Surrey, and after graduating from high school I had multiple offers from US and UK universities – choosing the UK as my higher studies destination was the first choice I had to make. Surrey specifically stood out for me due to its strong placement year focus across all of its degrees.
I'm naturally a person who learns through doing. The opportunity to do this not just through short-term internships (like what the other universities I was accepted into offered) but through a structured, year-long placement is what swung it for me.
I was also thoroughly impressed by the amount of world-class research coming out of Surrey in my course discipline, from nanotechnology to computer vision to telecommunications. I wanted to be exposed to thought leadership from world-class researchers, and I discovered later in my career how useful my Surrey experience was for advancing this.
What is your strongest memory of your time at Surrey – what do you picture first when you think of being here?
Hands-down the best memories I have of Surrey are those at the University lake. It's so peaceful, beautiful, and serene – I spent many days and evenings there studying, conversing about life and taking a break from hectic days. The people that I met at Surrey whom I bonded with over the years at the lake, discussing life and studies, are some of the strongest friendships I made at University.
What is the one thing you would say about Surrey, or the course you studied, to someone who doesn't know anything about it?
Don't miss out on the option to do a placement year, especially in a discipline like electronics and/or computer engineering! Surrey offers tremendous support and guidance in providing access to the best companies in the field, and it's incredibly important to have that kind of industry experience because the field progresses rapidly. Even within the years I was at Surrey, the course was constantly updated to incorporate the latest developments in the field – crucial to ensure the degree you graduate with still holds value by the time you're job hunting. 
Where did you spend your Professional Training year and what did you enjoy most about the experience?
I worked in the UK division of a software development company in the field of analogue and mixed-signal electronic chip design based in Portsmouth. It was the perfect opportunity for me since it expanded my knowledge in both electronic and computer engineering. I went into my placement year with a mentality that it was as much about finding out what I did NOT want to do as it was about finding out what I enjoyed. What I learnt through the experience, long before I graduated, is that I enjoyed the software industry a lot more than electronics. Ultimately, it played a big decision when I was looking for jobs in my final year.
What I enjoyed most about my Professional Training Year is that since the UK division of our company was small, I got stretched a lot further even in a placement role than I would have been at a larger firm. I was given the flexibility to own project management end-to-end, and also work on developing business relationships. These skills helped me immensely in later roles in my career.
How did studying or working abroad influence your career aspirations? Did it benefit you in other ways?
In addition to my placement year, I also spent a year abroad studying at Nanyang Technological University, Singapore. I was also sponsored by the Singapore Government on a summer internship to stay on to carry out research in speech processing. My time in Singapore and the network I built there landed me my first job out of university – and my current job after that, as it instantly stood out to prospective employers. I got the opportunity to take elective courses in diverse topics such as economics and communication studies on top of my course modules and that academic experience has been useful in giving me the extra edge in my day-to-day role.
Reflecting on your own experiences, what advice do you have for students considering studying or working outside of the UK?
My year abroad in Singapore gave me the opportunity to be exposed to a different academic and cultural environment was, without a doubt, something that helped me develop personally in a big way. And this is true for all of the friends – from Singapore and other exchange students like me – that I made as well! Looking back at it now, even when I talk to those friends in successful careers, everyone realises how much of a role it played in making us who we are today.
A year abroad challenges you to push yourself out of your comfort zone, personally, professionally and even culturally - you have to throw yourself into things you've never done before. Life is always going to be like that, and a year abroad prepares you to deal with anything that life can throw at you.
What has your career journey been like and what do you do now?
I had a couple of job offers around the time I graduated and the one that I took was a role at a Singaporean start-up (through the contacts I built on my year abroad), working on flying drones, a challenging job to be the bleeding-edge of technology. I then moved from there to a role at Accenture in 2014, one of the largest consulting companies in the world with a presence across technology, management, digital, and strategy.
Since I joined the company in a graduate role, I have been promoted twice to reach my current role as a Senior Analyst on our Infrastructure Services team, working on technology architecture and delivery for one of Accenture's top financial services clients. My role involves part technology implementation, and part project management – a blend that I found perfect for me through what I learnt about myself from my previous roles. I'm also involved with internal teams in Accenture working on innovation. 
What do you find most enjoyable about your line of work and why?
Technology consulting at Accenture with the financial services client I work for gave me the opportunity to deliver solutions to complex engineering challenges while providing business value. What I like most about my work is that I get to manage and work with a global team spread across the UK, Czech Republic, and India – learning and developing professionally from the experience of highly talented colleagues with wildly different backgrounds. 
What are your top tips for students aspiring to work in your profession?
If you're thinking about a job in technology consulting, be prepared to push yourself out of your comfort zone – whether it be in professional skills (pitching plans to senior stakeholders as a client) or technical knowledge (you may have studied something academically, but real-life technical delivery is so much more challenging due to business constraints and complexity). And always think of not just the engineering impact, but also how that in turn has a cascading impact on business and your client's stakeholders. 
Learn more about our degrees in the field of Electrical and Electronic Engineering and read more about the student experience at Surrey.