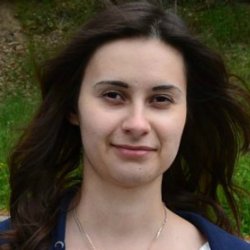 Anna Isakova
"I can hardly overestimate the influence of this MSc on my life. It has triggered my scientific career enormously and it has brought me together with many people who are experts in their fields."
What attracted you to choose Surrey and to study your course here?
For me, Surrey was the first choice when I was applying since the course was the perfect match for my career development ideas. Before I came to Surrey I graduated with a Pharmacy degree, but I have always wanted to go further into science and the MSc in Drug Discovery offered me everything that I needed to go on. It seemed very up-to-date with current needs of the industry and academia, and Surrey was the only university that offered such a complete package of knowledge in one course.
The second fact that influenced my choice was actually the campus – the most beautiful I have ever seen - and the availability of accommodation, as I was applying quite late in the year. The Accommodation Office and the International Students Office were very efficient in helping me to get to Surrey. Altogether it was a perfect match.
What is your strongest memory of your time at Surrey – what do you picture first when you think of being here?
The strongest memory for me is Stag Hill, the main campus. I was living in Stag Hill with nine other people from different countries including UK, China, Bulgaria and others. These people became my close friends, my second family, during this year. The bonds that were established are still very strong, even after finishing the course, despite many of us having now moved back to our home countries.
Living on campus was so relaxed and peaceful that I could concentrate on my studies and research perfectly. The fruit and vegetable market on Thursdays always smelled of fresh cherries and the Greek nights in Rubix were to die for! My lab and office was 2 minutes' walk from my bedroom, so I used to walk in the street with a cup of hot tea and my notes underarm in the mornings. Meanwhile, in the summer while preparing for exams, we would have pizzas on the grass in front of Stag Hill for lunch!
What is the one thing you would say about Surrey (or your course) to someone who doesn't know anything about it?
It is amazing experience. Surrey offers you everything at once and it only depends on you what you want to do with it. There are a million ways to enhance your studies through language courses, time-management courses and others. There are ways to brighten up your student life in bars, clubs, societies and sports using the most fantastic sports ground in the UK. If you feel a craving for more – London is just 30 minutes away by train.
How did you change as a person during your time as a Surrey postgraduate, and how has your time here influenced your life and career since then?
I've learnt lots of things, social and educational. I learnt to deal with different people of different nationalities and to understand English with dozens of accents. I can organise myself and, suddenly, organise other people!
The biggest influence for my life, of course, was the MSc course itself. I came to study Drug Discovery with a very basic knowledge of organic chemistry, having specialised in analytical chemistry in my previous university. After the year in Surrey I was capable of planning my own synthesis, discovering my own reactions, characterising my own compounds. The research that I've completed in Surrey has introduced me to computational chemistry and synthetic chemistry which since then have become my major interests, be it in drug discovery or in chemical engineering.
I can hardly overestimate the influence of this MSc on my life. It has triggered my scientific career enormously and it has brought me together with many people, experts in their fields. I also remember one of my Surrey tutors talking about synchrotron experiments for a couple of hours and since that time I was really keen to try it myself. I am going to do some of my own soon and I feel like my dream has come true. This is how inspiration works in the end!
What has been your career highlight to date?
The Surrey experience has allowed me to choose from the best research projects offers around Europe in all the possible fields of science – from genetics to organic electronics. Now I am a Marie Curie funded PhD student in an International project, 'Establis', dedicated to improving the stability of the plastic solar cells. It is a very ambitious project with a cutting-edge research with outstanding results already after one year. At the end of the project I will obtain two degrees at once, from two universities. This project allows placements with leading industrial companies, like Merck, Belectric, and Siemens, and the career prospects so far are brilliant. The good thing is that science is really challenging and I feel rewarded enough by being a part of something this great.
What are your top tips for students aspiring to work in your profession?
If you want to be a scientist, you will have risks all the time. You never know how and where you will find your place. I have an MSc in Drug Discovery and now I am working with the Solar Cells. If I didn't try applying for the project which didn't seem a match at first, I would never be where I am now. I would advise everyone to try it. Try everything; all the fellowships, grants, proposals and applications, and once you do you will find your perfect job. Never stop searching and never give up.
Discover our chemistry courses.