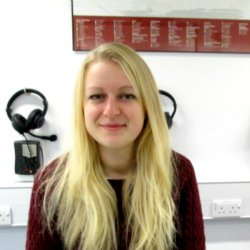 Anna Savage
"Studying two languages at the University of Surrey is a challenging but rewarding experience."
Course
Modern Languages (Spanish with German)
"Studying two languages at the University of Surrey is a challenging but rewarding experience.
It is not just about learning a language but we also discover the culture, society, literature and environment of a language through different modules. I feel it has effectively prepared me for a career on an international level.
I chose this course because of the variety of modules and the amazing opportunity of spending six months in each country during the year abroad, something that not all universities offer.
I also applied for a bursary from the David Ebsworth fund which allowed me to spend two weeks in Germany on a language training course.
"The lecturers care about us on a personal level because we work in small groups. It is always easy to contact them."
They are also extremely helpful preparing us for the Professional Training Year by assisting us with our CV and cover letters. The language department also has many contacts and links for studying abroad and work placements. I have also had the fantastic opportunity to learn Mandarin from scratch through the Global Graduate Award.
There is always something happening on campus and everything is close to hand. The facilities are great, especially the massive Surrey Sports Park. I play badminton there and take part in many activities such as swimming, Zumba and yoga.
The language department building is a new modern facility in the centre of campus and houses so many useful books, DVDs, language labs and other learning aids.
Studying German and Spanish at the University of Surrey has increased my self-confidence. After I graduate, I'm hoping to go straight into the world of work and hopefully a different country."
Discover more about our language, communication and translation programmes, including our BA Modern Languages (German and Spanish).