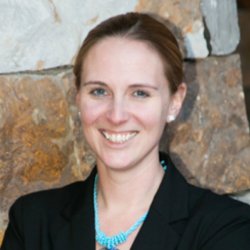 Annette Whittley
"The placement year gave me an incredible insight into the workplace, but mostly about being independent and standing on my own."
Annette Whittley is Director of Food and Beverage at Four Seasons Resort and Residences Vail.
What attracted you to choose the University of Surrey and to study your particular course here? What were the best things about your course?
My Grandfather trained at the Savoy and retired as the Catering Superintendent of the Pullman Car Company so I grew up hearing stories about the hospitality industry.  The first job I had was serving afternoon tea at age 13 and I loved it.  I always knew I wanted to work in this industry and the Hotel and Catering Management degree at Surrey had the best reputation in the UK and for me was the perfect way to get a degree in something that would benefit my long term career.
One of the best parts of the course was the Food and Wine Society - we ate at some incredible restaurants and my passion for the industry grew with each bite!
Did you have a placement year? Where did you spend it and how did it benefit your early career?
My Placement was at the Boca Raton Resort and Club in Florida in 2001.  The first few months were spent in the call centre where we took room, restaurant and spa reservations, as well as acted as PBX for the resort. The experience in the call centre helped me to realize that I am not cut out for a desk job!  I started in Housekeeping in August and then 9/11 changed everything.  We were left with hardly any guests and no rooms to clean, after which I moved then into the Club Room Restaurant where I was once again reunited with my first love… Food and Beverage! I took on the role of Assistant Manager for the last three months of the placement and enjoyed every moment. The placement year gave me an incredible insight into the workplace, but mostly about being independent and standing on my own; paying bills and taking responsibility for the direction I wanted my life to go. 
Where has your career taken you and what do you find most enjoyable about your line of work and why?
So many exciting places and no two days are ever the same! I began my Four Seasons career as an MIT (Manager in Training) at the Four Seasons Palm Beach and started as the F&B Admin which is still the most stressful position I have held (organizing F&B Managers is like herding cats) then I worked as the Assistant manager in the all-day dining and fine dining restaurants. 
After meeting my future husband (who is also in the industry) we moved to the Four Seasons Westlake Village in Southern California, this was an opening and I was promoted to the Bar Manager position. That was a quick stop of 18 months before moving to Texas. At the Four Seasons Houston I was the In-Room Dining Manager and then the Banquet Manager. Next stop was to the tiny Island of Lanai, Hawaii with a population of just 3000 people and two Four Seasons. On Lanai I had the role of Assistant Director of Food and Beverage. This tiny island taught us so much about leadership and sincerity, you cannot fake who you are when you see everyone you work with 24 hours a day. It was also a Union property. While I do not think Unions and Hospitality work together at all, I do believe Union properties separate managers from leaders and force you to be fair, honest and consistent in you leadership style as you are now accountable to a third party. Then after three years it was onto Vail Colorado as the Food & Beverage Director and who knows where I will be next! The Four Seasons is an exceptional company for people who want to move and grow. People always ask which location was my favourite but it's like trying to choose your favourite child… you just can't!
What are your top tips for students aspiring to work in your sector?     
Go after the job you want, have a clear vision and be able to articulate that. Start from the bottom, wait tables, wash dishes. You will not be the General Manager a year after you graduate. Most of your staff will be older, wiser and have seen it all a thousand times, learn from them, ask them questions. I learnt more from my staff over the years than anyone else.  You cannot be a leader without any followers, get your team to respect you and follow you. You have to put in the hours. Hospitality is a tough industry, you will work back to back shifts, you will work EVERY holiday, and you will miss out on parties, birthdays and weddings. Make peace with that because complaining about it will not impress anyone, we all do it and no matter if you are the Resort Manager or stewarding Supervisor, we will all be toasting each other at the local industry bar on Christmas after a 14 hour day!  Because it really is a brilliant industry and we LOVE it!
Discover our courses in hospitality and tourism.
Clearing
Find your course and learn how to apply