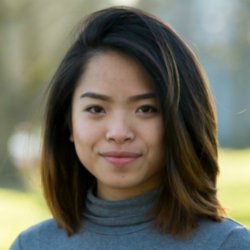 Ashlee Lim
"Since starting at Surrey I have learnt to step out of my comfort zone and try new things and meet new people. Ironically, being away from home in Malaysia has helped me learn more about myself and my culture."
Course
Digital Media Arts
"I decided to study at Surrey as the Digital Media Arts programme seemed very promising in its relevance to the industry. The option of a Professional Training placement was definitely a plus, and despite being a brand new course at the time, the fact that Surrey is a highly ranked institution helped cement my choice in furthering my studies here.
I visited the university over the summer and spoke to some staff members. I fell in love with the green campus and felt very at home.
The campus was a big deciding factor for my choice in studying here. It still lifts my spirits to be a part of such a welcoming environment. I also love the cultural diversity present on campus.
I've always been very passionate about the arts, specifically graphic design. However in recent years I decided to venture in other fields within the media industry. The Digital Media Arts programme was especially enticing as it offered a wide variety of skills in up and coming aspects of the industry, such as motion capture and virtual reality.
"I have achieved so much in the past two years, but successfully building an animation in a virtual environment for one of my recent projects is definitely high on the list."
The skills I have acquired so far are currently in demand, and I would not have gained them had I chosen to study a more traditional media course instead. I really enjoy the hands-on, practical aspects of the course. Not only do you gain a range of skills, the experience on certain projects will aid you in deciding what you would like to specialise in.
We currently have a Professional Contexts and Preparation module that aids us in our preparation for securing a placement.
This includes help in writing a CV and cover letter, mock interviews, how to set up a portfolio etc. Tutors are more than willing to help you throughout the application process if you approach them with your desired placements. SurreyLearn also provides information on certain offers.
With their open office hours, academic staff are ready to help with your questions or worries. The equipment rental system, Mac and PC labs, as well as brand new motion capture studio and TV studio provides you with all the tools you need for your artistic endeavours.
I am currently the Marketing Officer of TEDxSurreyUniversity. Aside from allowing me to express my creativity in designing promotional material for our events, my involvement in the committee means I have a hand in organising the talks. This experience has improved my communication skills as we have to liaise with various individuals within as well as outside of campus. I also attend pole fitness once a week. This sport is one that I never imagined myself partaking in, so I'm glad that Surrey has such a wide variety of clubs and activities on offer."
Discover more about our media, digitial arts and film programmes, including our BA Digital Media Arts.