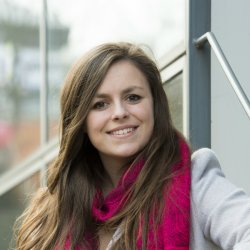 Ashleigh Edwards
"My greatest achievements this year were moments where I stepped right out my comfort zone, for example - moving away from home and learning to live independently."
Course
Theatre and Performance
"The University of Surrey is renowned for its successful graduates. When applying for Universities I fell in love with the campus, the opportunities offered and Guildford itself.
At the time I applied Surrey's position on the league tables was very promising. Since I've been a part of the University it has risen from eighth to fourth in the league tables. This is very exciting and is giving Surrey the status it deserves.
From a young age I knew I wanted to pursue Theatre and Performance.
The decision to do a course at a University opposed to a Conservatoire training school was the best decision I made. The skills and understanding of the theatrical world I have gained from being part of this course are astonishing. It covers areas of acting, production and the theoretical background of theatre and performance. I has given me a great insight and into a broader discipline which will lead to a wider range of opportunities once graduated.
All aspects of the programme are enjoyable and challenging but in different ways. The practical modules follow my personal interests yet the staff interlink the theoretical and practical modules with care ensuring each student is as well equipped for each module as possible. As a course it believes strongly in the interconnection between theory and practice and this is something Surrey strives in. 
"Having to juggle everything - doing a degree, working part-time, being on a committee, socialising and living independently has been a challenge."
The academic staff aim to push each student out of their comfort to create more insightful and developed students. They are helpful and attentive if there is a problem, either personal or educational. Most have specialist subjects in which they are writing and working on alongside teaching, showing the students are getting the most valuable education possible. There is a lovely communal sense of shared learning in the classrooms. 
I am apart of the Theatre Society committee this year. As a departmental society we have aimed to push the educational side having weekly workshops, teaching the members new skills. I am also a member of Musical Theatre Society whose annual shows are a big part of my life. I've become a lot more organised since going to Surrey. It's an important life skill that will continue to benefit me after graduation.
Surrey is a very beautiful county. Living in Guildford is a lot different from the Devonshire country towns I used to live in.  London is easily accessible which means I get to see plays and musicals a lot more frequently. There is a safe and friendly atmosphere in Guildford, and it is a lovely town."
Discover more about our performing arts programmes, including our BA (Hons) Theatre and Performance.