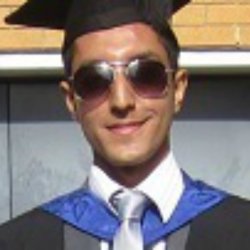 Asif Jafferali
"I spent my Professional Training placement at BlackBerry, gaining organisation, project management and technical skills. I now work full-time as a Field Test Specialist for the company."
Course
Computing and Information Technology
Placement company
BlackBerry
"I took a BSc (Hons) in Computing and Information Technology at Surrey.
I chose to study the subject because I enjoy learning how things work, and have a keen interest in the technology industry.
Aside from the brilliant facilities and recently-created Manor Park accommodation, I chose Surrey because of its great track record for quality teaching and impressive Professional Training year to boost my CV and provide me with industry experience.
I was really well supported throughout my placement, with the Placement Office guiding my decision-making and the careers fair enabling me to network with a variety of businesses. I spent my Professional Training placement at BlackBerry, gaining organisation, project management and technical skills and now work full-time as a Field Test Specialist for the company.
I loved the subject matter on my course. The content was great, with a nice mix of computing and business which is exactly what I wanted to learn about. The facilities were brilliant and there was always a computer available, and the newly renovated library was nice to study in.
My degree enabled me to gain business acumen and technical expertise that armed me with the skills needed for a successful career. My career highlight so far has been travelling around Amsterdam, Austria, Munich and Prague – all in my first year! If I was able to give one piece of advice to new students, I'd say definitely consider taking a Professional Training year and make the most out of the opportunities you get at university."
Discover more about our computer science programmes, including our BSc (Hons) Computing and Information Technology.