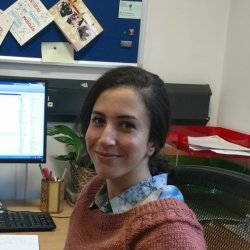 Asma Seddaoui
"When I found the opportunity to combine my passion and my love through a PhD, I jumped with no hesitation."
"My passion for this field started when I was a little girl. I grew up with two older brothers and although I was interested in playing with dolls, most of the time I preferred playing with my brothers' games that involved logic. I also helped my father fix whatever was broken at home. Moreover, as a family we used to watch documentaries together and always challenge ourselves with questions.
Thanks to watching documentaries, another passion grew in me: my love of space. Space is a mysterious place and I have always wondered what lies behind the little lights that we see at night.
Reaching secondary school, I discovered the magic link between maths and physics. Suddenly everything around me was based on equations and laws that bright people discovered and invented.
When I finished my degree in engineering, many years had passed since I discovered my love for space. When I found the opportunity to combine my passion and my love through a PhD, I jumped with no hesitation.
"I was fascinated about how plain mathematical equations could translate and describe natural phenomenon around us."
What we do in space engineering is use the unlimited resources that maths and physics provide to develop new machines and technologies to uncover the mysteries of space.
I chose electronic engineering, to draw my path towards control engineering for my masters degree in Algeria.
Control engineering can be used in different applications such as automobiles, aircraft, plant factories and so on. But the most interesting application for me was how spacecraft are operated for space exploration.
Being part of a department (the Department of Electrical and Electronic Engineering) that works closely with professionals was the best option for me to acquire both academic and professional skills, which is why I decided to come to Surrey for my PhD. The University of Surrey, apart from being one of the best universities in the UK, is home to the Surrey Space Centre (SSC) which works in collaboration with the Surrey Satellite Technology Limited (SSTL).
The overall experience of a PhD at Surrey has been productive, challenging and fun. Every day is an opportunity to learn, from fellow researchers, classes or different talks organised by the University. Every day is an opportunity to be better than the person you were the day before. Every day is an opportunity to meet with friends and relax.
"My supervisor helped me tremendously throughout my first two years of the PhD and will continue to help my until I complete my PhD."
She guides me when it comes to steps required to progress and is very flexible when I suggest ideas and plans. She allows me to work in a totally stress-free environment.
Although sometimes it is stressful when deadlines for papers are close, she also helps with proofreading and writing.
My research is a theoretical research where I use mainly a computer for simulations.
The Department provided me with a more powerful computer when my work required it and my old computer could not keep up.
Although my PhD is about controlling a robotic manipulator mounted on a spacecraft, I had to include in my models some space dynamics equations. This was possible thanks to the help of an academic (lecturer in space dynamics) within the Surrey Space Centre.
The first day I arrived in Guildford I fell in love with this small lovely town. I call it a compact town where everything is available in the centre and around the University campus. The facilities in Surrey Sport Park are amazing. I go to the gym and to different coached classes whenever my PhD schedule allows me to.
Having visited most of Scotland a few years back, travelling around the UK is a must. I came to the UK for my PhD in 2015 and since then my friends and I have visited many places such as London, Portsmouth, Bath, Cambridge, Oxford and Cornwall.
"Following my PhD I would like to pursue a career in research."
I met my husband six months after I arrived here and now we are married and travel together in different places and we both enjoy it very much. 
My PhD topic can be used in so many applications in space. I want to go as far as I can in this field to witness the birth and launch of such a system, with the help of the space community."