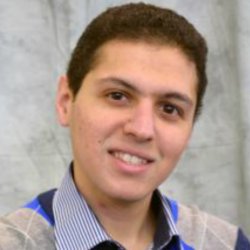 Ayman AlAfifi
"The lecturers were very knowledgeable on the subjects they covered."
Ayman is now studying at Utah's Water Research Laboratory, developing a systems model to improve river and watershed restoration and quantify habitat quality.
He is also undertaking two internships: the first as a proposal evaluator for the USAID Water For Food Security Grand Challenge Programme, and the second as an energy and climate change policy implementation intern with the Centre for New Energy Economy at Colorado State University.
"I was interested in learning about the principles and applications of environmental planning and sustainable development, particularly in developing countries. The Centre for Environmental Strategy (CES) at Surrey seemed to have the most international experience among all the British universities that I was considering applying to. I was attracted by the quality of research and international development projects carried out by CES.
My supervisors got me fully acquainted to the academic system in the UK, which I wasn't familiar with before joining Surrey. They also provided me with excellent feedback on assignments and research projects, which substantially improved my academic writing, communication and research skills.
The lecturers were very knowledgeable on the subjects they covered, and the guest speakers enriched the content of classes, by providing case studies and giving every example an external perspective. The facilities we used were also well-equipped and comfortable for long class sessions.
My MSc at Surrey prepared me well for my PhD,because it equipped me with the skills and confidence to conduct high-quality research and address the needs of different stakeholders and policy makers in a professional way."
Discover more about our Environment and Sustainability programmes, including our MSc Environmental Strategy.