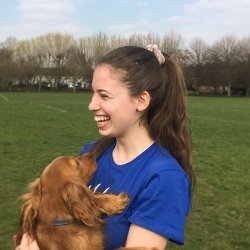 Beatrice Lovell
"We organise social events for Biosciences students across all years to get to know one another."
Course
Veterinary Biosciences BSc (Hons)
Please introduce yourself – what year are you in? What degree do you study?
I am Beatrice Lovell and I am President of BioSoc. I'm currently in my second year, studying Veterinary Biosciences.
What does your society stand for? Can you tell us a little bit about what you do?
We organise social events for Biosciences students across all years to get to know one another. We also collaborate with societies, such as PhySoc and ChemSoc, to host other events throughout the year.
How do you join your society? How much is it?
Membership is free! Go to the USSU website to join.
Do you hold any social events? If so, what are they?
Yes, we hold annual bar crawls, pizza parties, movies nights and an end of year ball. This year, we are planning on hosting a staff roast and other events, such as bowling or ice-skating!
As a new student, it may be a little daunting to attend a social when they do not know anyone. What's your best advice for first year students?
They will not be alone. We will have many new students coming along to our socials that don't know anyone, so it's a perfect opportunity to get to know people you may share lectures with. The society hold a 'get to know you' social and a first year bar crawl, within the first couple of weeks.
Does the society organise any trips that are relevant to your degree?
We don't have any trips planned yet but we may look into society trips this year!
Can you purchase society clothing?
There will hopefully be BioSoc t-shirts available at the Freshers' fair to buy (and probably other opportunities too), which can be worn on the bar crawls.
Could you tell us a little about being on a committee? Highlights and challenges…
I am very new to the committee so haven't faced any challenges yet, but a highlight would definitely be enjoying the end of year ball with other committee members.
What's your fondest memory as a society member?
My fondest memory was definitely the end of year ball!
Why do you think people should join your society?
You should join BioSoc because it doesn't need too much commitment, meaning you can still find time to fit in everything else. There are lots of social events so there's something for everyone. It is also a great way to meet new people, who study similar degrees.
For more information about BioSoc, check out our Facebook and follow us on Instagram.