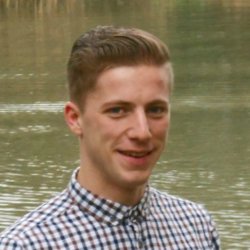 Ben Daniell
"I chose to study Medical Engineering because the subject combines both engineering and medical sciences, and seeks to further technical advances to massively improve the quality of life for an ageing population."
"When I first arrived at Surrey for the open day, I knew I wanted to study here. The buzzing atmosphere around campus was tangible and the subject talks and tours were fascinating. The league table results, student satisfaction and graduate employment sealed the deal for me.
I talked with a student who'd completed his Professional Training year, and he told me how he'd already secured a graduate job and had his name published in a peer reviewed paper.
I'm happy to say, following advice and with help from my personal tutor, I've secured a placement year in Leeds for DePuy Synthes (a subsidiary company of Johnson & Johnson), working on the development of hip and knee implants – a great opportunity to get an insight into a career in medical engineering. 
I'm treated like a full-time professional and would highly recommend Professional Training years to others. The knowledge that can be gained, even from the application process, is very useful. My placement has motivated me to finish my degree and start working in industry, and I've learnt a lot more about medical devices. Placements can also open doors to a potential graduate job.
This is my first time living away from home, and although the thought of moving in with strangers was initially daunting, from day one everyone's been really friendly. I'd highly recommend living in halls – especially for the first year of study, as it's a way to meet new people outside of your studies. Also, many of the facilities required for study such as the library and computer rooms are open 24 hours a day and Surrey Sports Park is very well-equipped and reasonably priced. The campus is well kept and tidy throughout the year and I think the social life is great. There are sports and societies for any interest you could think of and a large number of events organised by the Students' Union. The campus is well designed, with a large amount of green space for those sunny days!
All lecturers are happy to meet outside of lectures if you're struggling with certain concepts. Many subjects have tutorial sessions where you can meet with tutors and postgraduate to solve problems you might have. Aside from this, there's support available at the library for help with academic skills such as essay writing and revision technique. I really enjoy the practical elements to the course, namely laboratory work, as it builds on academic knowledge and shows the application of what's taught. We're lucky enough to have a gait laboratory which is fascinating to use, and, even though I'm often in 9am-5pm lectures, I still have enough time to take part in a number of sports and societies in my spare time and I'm currently a student ambassador, representing the students on my course and showing prospective students around campus during open days.
I've definitely matured from my university experience and I feel I've made friends with people from many different backgrounds. My passion for the subject has increased since I started this course. When I graduate, I'd love to work in the implant/prosthetic business as I find it fascinating."
Discover more about our mechanical engineering programmes, including our MEng Biomedical Engineering.