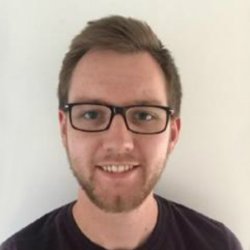 Ben Hartfield
"Ultimately, sustainable development is the study of how past decisions affect the future, and I want to be part of shaping that future."
Course
Sustainable Development MSc
Placement company
Minimise Solutions
"My decision to study for an MSc in Sustainable Development was prompted – as a third year mathematics undergraduate at Surrey – when I completed the Global Graduate Award in Sustainability offered free at the University. I'd also spent a year in industry at Transport for London which was invaluable experience, but made me realise I wanted to explore other areas.
What appealed to me about the MSc was the mix of politics, economics and philosophy, alongside learning how to tackle the biggest threat humans have ever faced: climate change.
One of the reasons I'm passionate about this field of study is that I believe the governing institutions do not have our best interests at heart, and this creates a great sense of injustice. Everything we do interacts with the environment and it is becoming more important in businesses every day. Ultimately, sustainable development is the study of how past decisions affect the future, and I want to be part of shaping that future.
As part of my Masters course, I'm currently on placement at Minimise Solutions, a company that provides energy efficiency technology and solutions to businesses and the public sector. At Minimise I'm working on bringing in new business. I also assist with finding survey respondents to the UK's leading energy efficiency industry publication, which creates a snapshot of the industry and allows Minimise to make new contacts for business opportunities.
"One of the highlights while I've been on placement has been travelling to Edie Live (the UK's leading energy, sustainability and resource efficiency exhibition) at the NEC to hear leading figures in the sustainability industry speaking on a range of topics, from energy efficiency to big data."
When I complete my MSc I'm planning to find a job in the sustainability sector. While I was sure of my aims before, doing the Masters course has solidified them, giving me even more drive to help create change."
Discover more about our environment and sustainability programmes, including our MSc Sustainable Development.