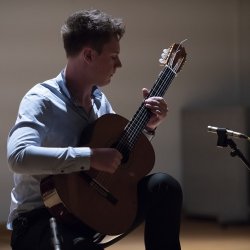 Ben Uden
There is an enormous amount of collaborative work created within the music department, which leads to a large sum of skills being developed as social professional musicians for the industry.
I have not always been musically inclined, having begun playing the classical guitar at the beginning of secondary school. However, throwing myself at all arising opportunities to push myself and explore the industry has led to an undeniably life changing passion. I love that music is a collaborative profession and allows people from all different musical and cultural backgrounds to come together, make amazing music and share it with everyone.
I chose to study Music at Surrey for a number of reasons; Surrey offered amazing facilities, extremely knowledgeable staff and a beautiful campus situated in the heart of the country. Surrey was also the only University I considered that offered a Professional Training Year.
Attending an Open Day reinforced my decision that Surrey was the right University for me. I found the taster lectures highly engaging and the tours of the department exceeded my already high expectations of Surrey.
The Music programme is very much tailored to include everyone. Whatever your strengths including performance (from classical to heavy metal and everything in between), theory, musicology, and composing. This allows for an enormous amount of collaborative work to be created within the music department, which leads to a large sum of skills being developed, as social professional musicians for the industry.
"Since starting Surrey I have met an extraordinary amount of people. From colleagues, to friends for life, to current industry professionals and lecturers. The whole experience at Surrey within one year has been outstanding."
The academics are considerate, understanding and have extensive expert knowledge in their field, with lectures saturated in knowledge and information. The facilities within the department are of the best in the UK, with the most sophisticated recording facilities for students to use.
I am part of the Team Surrey Table Tennis Teams. I am very proud to have been captain for Surrey Men's. Travelling to and from venues in the south of the UK has given me a new level of maturity of independence, something that could have only developed in Team Surrey.
This year, an opportunity arose to be the Musical Director of the annual musical produced collaboratively by GSA and MADSoc. I made great contacts and have been invited to again to work on the same project in the next academic year.
I have significantly matured since starting Surrey, both in myself and within my course. The people that you are surrounded by and countless opportunities that arise from the University has propelled my optimism and made a lot of my goals seem even more attainable, some of them achieved already. I have learnt social skills of working with different types of people with different backgrounds, strengths and weaknesses.
It has most certainly been the most positive change of my life so far!"
Discover more about our music and sound recording programmes, including our BMus (Hons) Music.