"My degree gave me the confidence to know that I could compete for management jobs."
Why did you choose to study at the University of Surrey?
I worked at a local hotel in Newcastle as a teenager and loved every minute of it and recognised that I could pursue a career out of it.
The University of Surrey's reputation as the leading program in hospitality management ensured that it was top of my list of universities to attend.
Where did you spend your placement year?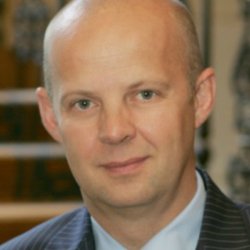 Bill Taylor
I did my second year at Michigan State University and then completed my industrial placement at the Boca Raton Hotel and Club in South Florida. Both of these were defining experiences for me, as they provided me with an insight in to the global nature of the business and highlighted the opportunity to establish a career that could take me across borders.
How has your degree helped in your career?
It definitely got me my first job out of university in the US Virgin Islands. Rock Resorts only recruited from Surrey for their management openings. It definitely gave me the confidence to know that I could compete for management jobs.
The industrial year placement was also invaluable as it gave me the opportunity to truly decide whether or not this business was for me and whether or not I wished to specialize in a particular field. I also know that it was instrumental in providing me the opportunity to be considered for my very first position with Four Seasons.
Where has your career taken you and what is your career highlight so far?
Beyond the shores of the UK, I spent time in the Caribbean and have lived and worked in the United States for the last 22 years, including stints in Chicago, Atlanta and Boston for the last eight years.
I am extremely fortunate to work for an exceptional company and with truly amazing colleagues from all over the world, who challenge me every day, through the example they set, not only to be a better professional but a better person.
What advice would you give to students looking to work in your sector?
Get a job during holidays or on weekends, and not a 'soft' one. Make sure that this business is for you. Make beds, wash dishes, wait tables. There may be a tendency to want to have a title, a nice schedule and a mentally challenging job as a student. You will ultimately be a far better technical manager if you understand the jobs for which you have responsibility and a better leader of people if you have an appreciation of the challenges they face in their daily work.
Discover our hospitality and tourism courses.
Webinars
Join a webinar and speak to our current students