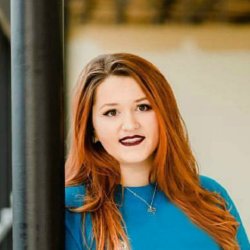 Briana Swift
"I have found that my professors and programme leader have not just helped me academically, but also professionally. Many are industry professionals and bring decades of hospitality experience to draw on in the classroom."
Course
International Hospitality Management (EuroMasters)
"I chose to come to the University of Surrey because of the wonderful reputation that both the University as a whole and the School of Hospitality and Tourism Management possess. Prior to attending Surrey, I completed my undergraduate studies in Business Administration and International Relations at Boston University. I always knew that I'd like to pursue postgraduate study in the UK and was first introduced to Surrey at an international postgraduate fair. I liked that Surrey offered the same research opportunities and academic rigour that many London universities do but also has a close-knit, campus feel.
After taking a tour and speaking to other postgraduate students, I knew that Surrey was the right fit for me.
I chose to study my programme because of the breadth of hospitality topics that it covers and its international context. As I had no undergraduate background in hospitality, I felt that this programme offered a comprehensive education in all facets of the industry and also allowed me the opportunity to tailor which areas I'd like to learn about further through its optional module offerings. Additionally, I was attracted to the two-year programme structure because it permits me to complete a summer placement and learn through hands-on experience. 
I am passionate about the hospitality field because it is the perfect hybrid of the fields and subjects that I am most passionate about: business, international relations and travel. Furthermore, I love how multi-faceted the field is. Personally, I am interested in hotel development, however I have classes with friends and colleagues that are interested in hotel operations, cruise lines, opening restaurants and so on. The opportunities in the field are truly endless. 
What I enjoy most about my programme is its balance between teaching traditional hospitality concepts and current industry trends. Through integrating real-life, modern hospitality examples and case studies, I feel equipped with knowledge that is up-to-date, relevant, and applicable to today's field. I also enjoy my programme's size. This year our programme was about 12 students. We are a close group who help each other revise and spend time together as a cohort outside of class at least once a month.
The academic staff on my programme are extremely helpful and accessible. Most professors have set office hours but are always willing to arrange additional hours with students to fit their schedule. I have found that my professors and programme leader have not just helped me academically, but also professionally. Many are industry professionals and bring decades of hospitality experience to draw on in the classroom. Additionally, the hospitality programme's facilities are extremely impressive. Most classes take place in the School of Hospitality and Tourism Management but a few are in the Surrey Business School. Both buildings are extremely modern. Lastly, Surrey's on-campus Library is amazing. There are so many resources, including an expansive hospitality-specific section, and it is open 24 hours a day, 7 days a week.
"My greatest piece of advice to anyone considering enrolling on this MSc programme is to seize every opportunity that presents itself."
There are many opportunities to learn from faculty, sit in on lectures with industry professionals, and attend career fairs and talks. These are all optional but truly do add to the experience. Lastly, I recommend utilising all of the resources Surrey offers to help students achieve academic success. The Library is a great resource and there are many online tutorials regarding citations, study tips, etc.   
The best things about life in general at Surrey is Guildford and the great friends that I have made. The University has an active postgraduate society that hosts a number of mixers and social events throughout the year. It's a great way to meet people from different programmes. Through this and orientation, I have made friends from all over the world and in many different schools within the University. Guildford is a great town, the high street is always busy with market days and great shops. There are also great events like a town-celebrated bonfire night and Christmas light switch-on.
Since I've been at Surrey, I've had the opportunity to visit many other areas in the UK. I regularly commute through London and have become familiar with most of its boroughs. I've also managed to visit Bath, Bristol, Isle of Wight, Birmingham, New Forest and Scotland. The train station in Guildford makes it very easy to access different parts of the UK.
In addition to expanding my knowledge on the hospitality industry, my time at Surrey has made me much more confident in my field and inspired me to refine my revision and research tactics. Surrey's programmes are rigorous and require independent coursework and personal accountability. Through adopting these skills, I feel like a much more competitive candidate for post-graduate employment opportunities."
Discover more about our hospitality and tourism programmes, including our MSc International Hospitality Management.