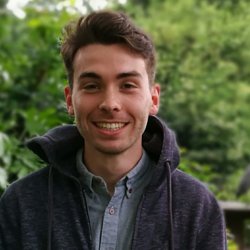 Carl Haines
"As well as increasing my knowledge of accelerator physics, I also developed my coding abilities and improved my French."
Course
Mathematics MMath
Placement company
CERN, Geneva
"I hadn't planned on doing a Professional Training year before coming to Surrey but when I heard from a lecturer about a placement opportunity available at CERN, the European organisation for nuclear research, I was very interested and made an online application. I want to work at the forefront of science and thought I'd learn a lot at this organisation, while I was also excited at the prospect of living in Geneva.
I worked in the BE-ABP-HSS (Beams-Accelerator and Beam Physics-Hadron Synchrotron Single particle motion) department, where my work was focused on accelerator physics.
My main duties included writing simulation code and running simulations to understand what is going on in the accelerators, developing ideas for improvements to the accelerators, and understanding large amounts of data and presenting this in graphs and images.
The most important things I learned on placement were how to conduct scientific research and how to do a full time job, with all the skills that requires – such as problem solving and communicating with colleagues. I also increased my knowledge of accelerator physics, developed my coding abilities and improved my French. I'm very proud to have been able to make my own contributions to science.
I was originally inspired to study mathematics because I enjoy learning new things and, to me, it is the most interesting and enjoyable academic subject. The best thing about studying at Surrey has been having the chance to go in-depth into a subject I love while also learning to be independent and making friends from all over the world.
I haven't decided what I'll do when I complete my degree but am looking into the possibility of studying for a PhD."
Why not explore our mathematics programmes, including our BSc and MMath degree courses in Mathematics?