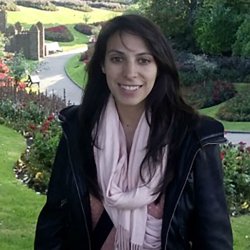 Carla Guevara Seleme
"What I like most about my Masters course is that all of my classes have a global point of view and I have international professors and a lot of international classmates."
Course
Intercultural Communication with International Business
"I chose to come to Surrey because of the programme, I thought it was a perfect match between communication and business studies. Also because of Surrey's location being close to London and in the south of the UK.
What I like most about my Masters course is that all of my classes have a global point of view and I have international professors and a lot of international classmates, which is what I wanted. I come from a business and hospitality background, but I really enjoy communication studies, so I wanted to study something interdisciplinary that would allow me to learn about both things: business practices and communication studies.
I am passionate about my field of study because I like to work with people. I enjoy talking, learning and helping people from other parts of the world. And I would like to work in different countries when I graduate. The business and communication field is very broad and gives me a lot of exciting opportunities.
"What I enjoy the most about my programme is that my professors and classmates are from different parts of the world."
This allows me to learn from other cultures and hear different points of views, as well as making new friends from places that I have never heard of before. By having professors from different parts of the world, I learn examples and theories that are very new and different. I like the academic staff and facilities for my programme. The staff are very nice and passionate about their research and area of studies.
The classrooms are comfortable and I am never too cold or too hot. Since there are not that many students on my Masters programme, we normally meet in smaller classes, which provide a more comfortable space to participate and interact with one another and with the professor.
I live in Cathedral Court. I like it, I live on the third floor so I have an awesome view and a lot of light in my room. I also like my flatmates, we are all international, from places such as India, Turkey, China, and Nigeria. I really like that it is safe, comfortable, and very conveniently located because it is so close to the Library and the lecture buildings. Living at Stag Hill is an easy way to meet new people and it is close to the lecture halls and the Library.
The best things about Surrey are the location, the facilities, the variety of clubs and societies, the Sports Park, and the career and network opportunities offered by the University.
As a student I have become less of a procrastinator, because now I start my assignments earlier. As a person, I am more open-minded from meeting people from all over the world and I am more knowledgeable because I learn from my friends with different backgrounds, different points of views and experiences. I am also more independent and a better cook.
I am part of the Surrey's Women's Football club and I like it very much. I like going to practice and playing football. I have met so many nice people and football helps me keep an active lifestyle. I also like the fact that I can work even though I am an international student and studying full time. It gave me the opportunity to become a student ambassador, which I like very much. And in general by being able to work here in the UK I can network, raise money and gain valuable experience in the workplace."
Discover more about our business and management programmes.