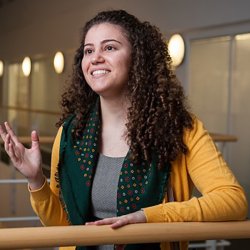 Chara Katiri
"I'd definitely recommend taking a placement year – for me, it's been the best decision I made during my studies and I benefited in so many ways"
"My home country is Cyprus, but I always wanted to study abroad, meet people from different backgrounds and explore new places. I decided to join Surrey due not only to the high placement in league tables and the proximity to London but also because of the beautiful campus and students' satisfaction.
I was looking for a degree that would help me build a solid foundation in software development and also provide opportunities to shape my career pathway to match my interests. With modern facilities accessible 24/7, labs, meeting rooms and social spaces, the University of Surrey offers everything I need for academic success.
Studying at university, adapting to a different environment and a new language is of course a learning curve but support is readily available in the form of personal tutors and mentors. 
In terms of tuition, Surrey's Department of Computing welcomes a variety of teaching methods – we're taught the subject through lectures, labs and tutorials, as well as external visitors who deliver talks through specific modules. The course provides a wide range of technical modules like Software Engineering, Artificial Intelligent, Web Development and Information Retrieval as well as management modules like Practical Business Analysis and Project Management.
The highlight of my degree was my Professional Training Year at NATS (National Air Traffic Services) as a member of the OCIO (Office of Chief information Officer), supporting the Information Management and Information Solutions teams. My responsibilities included business requirement gathering, testing, deployment, user training and maintenance of NATS' collaboration platform and its new virtual environment. Whilst on placement, I was well supported by university tutors and industrial placement tutors, and gained invaluable experience working in a professional environment.
I'd definitely recommend taking a placement year – for me, it's been the best decision I made during my studies and I benefited in so many ways. I received the opportunity to apply what I'd been taught at university, in a real business environment – I dealt with deadlines, deliveries, customers and requirements, gaining organisation, project management and technical skills.
A degree from the University of Surrey is a valuable experience, supporting the development of numerous soft skills and good practices as well as providing the infrastructure for the development of technical skills using the latest technology. I've already been offered a graduate job from my placement company and I'm looking forward to what lies ahead in the future."
Discover more about our computer science programmes, including our BSc Computer Science.