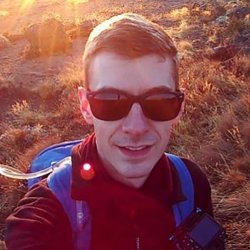 Chris Candy
"I chose to study Civil Engineering at Surrey because of its excellent ties with industry."
"Engineering is something I was always interested in.
At school I often got involved in after-school technology challenges and competitions, and before applying to university I did work experience at a few civil engineering companies, which I really enjoyed.
I like the application of maths to solve problems. No two civil engineering projects are the same: most structures are 'one-offs' meaning that new methods and designs are needed, and this keeps civil engineering interesting.
I chose to study Civil Engineering at Surrey because of its excellent ties with industry. The Surrey/ICE (Institution of Civil Engineers) Scholarship Scheme was something I couldn't find at any other university and has given me invaluable work experience. During my degree I've gained over 17 months' industrial training – through my Professional Training year and summer placements – with my scholarship company WSP|PB. The level of responsibility you are given on placement is very rewarding, and it is great to experience what working is actually like – something that cannot be taught in lectures.
One of the aspects I most enjoy about my programme is the wide range of modules we study, including topics such as geotechnical engineering, waste water engineering, construction management and materials. This allows you to build a broad knowledge, with the opportunity to become more focused on a specific area in the final years.
The course also offers great opportunities to go on site visits and see current civil engineering projects up close. These trips are often organised by current placement students who can give us an insight into the project they are working on such as the Crossrail tunnel.
On the social side, I've found that clubs and societies are one of the best ways to meet new people. I've been part of the Hockey Club since my first year where I've met many of my friends, and I've also played tennis for the University and represented Surrey in the British Universities Karting Championships. Living in student accommodation at Manor Park in my first and fourth years has also enabled me to meet a great group of friends who have made my time at Surrey very enjoyable."
Discover more about our civil engineering programmes, including our BEng and MEng Civil Engineering.