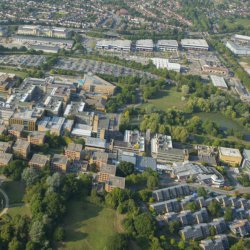 Christina Webb
"The lecturers were always happy to informally chat about your individual development. They helped me open up to new ideas and theories I wouldn't have found before. I loved it."
Christina Webb, an assistant editor at Lonely Planet, shares her experiences of studying a degree in English Literature and a Masters in Creative Writing at Surrey.
What attracted you to choose the University of Surrey and to study your course here?
The English Literature undergraduate course was the major factor in that it was very contemporary, thought-provoking and had a diverse range of culturally-significant topics. Secondly, Surrey's employment factor. For me it was hugely important to focus on the future and results, so Surrey's top employment statistics were essential.
The gorgeous campus was also a pull. I wanted to experience uni life at a campus university, and have fond and funny memories all over it.
What is your strongest memory of your time at Surrey – what do you picture first when you think of being here?
Too many things – I'm torn! Lunches with friends on campus, creative discussions, that feeling of handing submissions in, Rubix nights. I'd have to say the overall strongest memories are of getting involved with various events at Surrey. From fancy dress to raising money for charities and more specifically the newspaper/radio/TV media party, a formal casino night and theme park rides and dressing up at graduation ball.
What were the best things about your course?
The contemporary reading list, as mentioned before. The fact I meandered into creative writing alongside English literature and took up a Creative Writing MA at Surrey afterwards. Making like-minded friends for life. The lecturers who were always happy to informally chat about your individual development and ideas. Opening up to new ideas and theories I wouldn't have found before. I loved it.
What do you do now and what do you find most enjoyable about your line of work?
I love my job! I am Assistant Editor of Trade & Reference and Kids at Lonely Planet. I decided I wanted to work in trade publishing, and really worked at it until I was in a place I wanted so much to be in. Lonely Planet works quite differently to traditional publishing houses in that it is very digital, forward-thinking and has a relaxed but hard-working vibe, which I love. I can happily say I've authored books now and I adore the variety of working on both adult and kids titles. Also the research and the writing, the creativity and fun, my amazing colleagues, the company's care and attitude and working in travel!
How did you decide what career to go into? How did your time at Surrey help you to decide?
I decided I wanted to do something that I loved and I did a lot of research. Working in trade publishing is not just about loving reading, you have to love creating. There are so many different types of positions in publishing, but I always knew editorial was for me. Before and at Surrey I was always best at the editing stage of essay-writing, had a lot of attention to detail, was particularly interested in the ideas and creating stage and enjoyed helping coursemates and loved ones with their work, too, which has paved the way into which I have started turning my ideas into books and when commissioning authors, illustrators and designers today.
What are your top tips for students aspiring to work in your profession?
I've spent a lot of time discussing these things with various friends and colleagues. You can never learn enough. So here's my list of top tips:
Be realistic and specific, but open-minded. Know what suits you, your level of experience and what is achievable, but be open to exploring a variety of roles and starting from the bottom in order to get there.

Be persistent. Don't give up – it's a competitive industry. Understand that one experience does not represent all. We've all had those interviews that went terribly wrong!

Know where to look for roles. The Bookseller is great, but also checking out company profiles and joining agencies like Atwood Tate are useful for the smaller companies out there. My coursemate's blog diaryofapublishingintern.blogspot.com is awesome – you can sign up to her email newsletter.

Really tailor your CV and cover letter for roles. Remember it's not just about you. It's about the company, how you'd fit into it, what you admire about it and what you can bring to the table. You've heard it all before but making your CV and cover letter's layout and structure as neat and concise as possible is super important. Bullet point things so that you can expand on them in the interview.

Planning and taking authority even when nervous. Plan and set things up in stages so it's not overwhelming. I used to get very nervous with interviews. Then I planned so fastidiously that I didn't need to, including for spelling and proofreading tests. It also helps knowing that the interviewer is under pressure just like you are. You've got nothing to lose and they have everything to gain!
What aspects of being connected with the alumni network are most important or of most interest to you and why?
I appreciate all the opportunities Surrey offered me and don't want to forget them! It's great keeping in touch with the university and past lecturers, to keep updated about everyone's working life and experiences, and because the world is a small place.
Discover more about our English literature and creative writing programmes, including our BA English Literature and MA Creative Writing.