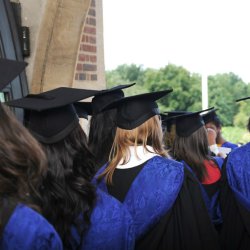 Chunjing Zhang
"After one year's study in Surrey, my communication skills have been improved significantly."
Chunjing Zhang reflects on how her Business Interpreting in Chinese and English master's degree helped her to develop as a language professional.
What attracted you to choose Surrey and to study your course here?
The fact that Dr Kevin Lin, a well-known master in the interpreting field, would be teaching in the Business Interpreting in Chinese and English (BICE) program attracted me to enrol. Also, Guildford is a quiet town (an ideal place to study) and is only a 40 minute train away from London.
London is where a large number of international events take place every day with large demands for interpreting services, which strengthened my determination in studying in Surrey.
What is your strongest memory of your time at Surrey – what do you picture first when you think of being here?
Surrey is such a beautiful campus and a fantastic place to live and to study. Everybody is so kind  and keen to offer help and I've made a lot of friends from all over the world.
What is the one thing you would say about Surrey (or your course) to someone who doesn't know anything about it?
If you aspire to seek a professional career in interpreting, the well-structured and challenging courses at Surrey will equip you with important interpreting skills, both hard and soft. You will also have the chance to reflect and perform what you have learned in class in real meetings and conferences!
How did you change as a person during your time as a Surrey postgraduate, and how has your time here influenced your life and career since then?
. I have become more sociable after all the parties and trips to Surrey. I find the skills I learnt really helpful in day to day life as I am now making friends from all fields and enjoying talking with them to learn more about their profession and enrich my knowledge bank.
What has been your career highlight to date?
I am now working in Reckitt Benckiser, a multinational company headquartered in London, in its Beijing office as a translator and interpreter. I find my work exciting and informative. My study at Surrey prepared me to perform professionally at work, which is very helpful. The nature of my work determines that I am mainly working with directors and CEOs. I've learned a lot from them about how they communicate with people, their ways of thinking, the direction the company is heading and the market trends in China etc, which are great experiences for me.
What are your top tips for students aspiring to work in your profession?
Translation and interpreting are imperfect arts. You'll always find better solutions for each assignment you do but that's also where the beauty of them lies. It drives you to become better by practicing more. Besides, Steve Jobs' wisdom also applies in this profession: Stay foolish, stay hungry. The truth is, the more you know, the more you know that you don't know. From my perspective, the most important thing of being a qualified interpreter is the thirst for knowledge. So, embark on a journey of learning and I wish you all the success!