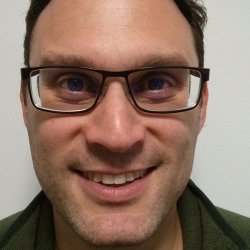 Dan Benn
"I have found the research environment to be extremely stimulating with both established academics and PhD students alike."
Unlike many of my PhD student colleges here at the University of Surrey's School of Hospitality and Tourism Management, my decision to undertake a PhD was both a surprise and something that only came to me later on in life (late 30's). 
Indeed, following a Higher National Diploma (HND) in Hospitality, Catering and Institutional Management at Norwich Hotel School I had disowned the very notion of education it as I just didn't enjoy it - however, this outlook would radically change once I began travelling!
Following 2 years of contract catering management at ITN in London, I hit the road for what would end up as two years' of solo-backpacking through South-East Asia, Austral-Asia and India.  Such was the personal fulfilment I found from this activity that upon my return I set up my own business as a self-employed Adventure Tour Leader. 
Over the ensuing seven years I would lead well over 2000 people though Africa, India, Central Asia, China and New Zealand for Explore Worldwide, Kumuka Expeditions and Silk Road Tours, experiencing for myself and interpreting for others aspects of each destination's history, politics, geography, religion/spirituality, and culture. 
This work was so stimulating and so intellectually fulfilling that I would ultimately leave tour leading to pursue formal learning in Tourism at the University of Otago, New Zealand. Eventually gaining a Post Graduate Diploma and a Master's Degree in Tourism (both with distinction), I started as a tourism and research lecturer at a private hotel management school in North Island, New Zealand. 
Three years later, I returned to the UK having won a PhD scholarship to study Tourism at the University of Surrey.  I am now in my final year.
What is your PhD topic?
It is generally accepted that a holiday can positively affect physical health as well as other less tangible components of a person's 'being' such as their happiness, contentedness, self-esteem, perception of having a purpose in life, and, sense of belonging and support. 
However, whilst a large majority of the UK population are able to have an international and/or domestic holidays each year, there are millions of economically weak or otherwise disadvantaged individuals and families for whom a holiday represents a very rare occurrence if it happens at all. 
As such, any potential benefit a holiday holds is immediately lost to those who, it is argued, are most in need.
My PhD centres upon the notion of 'social tourism', or 'tourism with added moral value that seeks to enable specific groups in society, who would otherwise not be able, an opportunity to have a holiday'. 
Working with the Family Holiday Association (a national charity in the UK dedicated to helping struggling families get a break) and eight of their holiday recipients, my PhD aims to better understand the role and meaning of a holiday within the lives of people in relative poverty/material deprivation through an analysis of the contextual story lines and meta-narratives surrounding their holiday event.
Why did you decide to do your PhD in Surrey?
My sole reason for applying to undertake a PhD at Surrey University centred upon the quality of specialist expertise to be found here.
"the School of Hospitality and Tourism Management has some of the world's most highly respected and influential academics; and, the opportunity to both learn from them and work alongside them cannot be over-estimated. "
Certainly, I have found the research environment to be extremely stimulating with both established academics and PhD students alike often presenting their research in-house as well as at international conferences. 
I have not often regretted my decision to come here and, indeed, look forward to the future opportunities that will come with a PhD from the University of Surrey's School of Hospitality and Tourism Management.
What is the potential future impact of your PhD work?
Within social tourism research and indeed tourism discourse generally, a holiday is understood as something outside of life: one escapes the ordinary mundane by going away on holiday, returning back into life following the time away. 
However, by taking into account personal life history and context surrounding or underlying the holiday event, the holiday becomes an event within life rather than 'outside' of it as 'we take ourselves with us on holiday'.  This research therefore contributes in the following ways:
Social tourism organisations can enhance the design, quality and impact of their product offerings by taking account of aspects of their clientele's life story/context (needs, wants, and aspirations);
The life story/context approach offers (i) a further line of argument for continued efforts to secure UK Central Government funding for social tourism initiatives; and, (ii) new avenues for social tourism research.
A development on existing methodological processes within tourism research generally.
Discover our PhD courses and our hospitality, events, tourism and transport programmes.