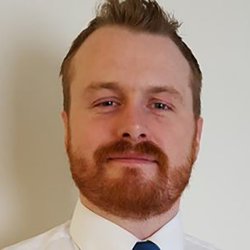 Daniel Bamber
"I want to be on the leading edge as technology advances and takes us further and further from Earth."
Course
Space Engineering MSc
"I chose to come to Surrey for the MSc Space Engineering because – having previously spent four years designing electronics for the defence sector – I wanted to move into the space industry. I found that most job roles I was interested in required experience in space, and realised that doing the masters would be a good way to get the required experience and knowledge.
I think that space is the growth sector in engineering and just about to take off in a really big way with the expansion of industrial space programmes as opposed to national ones. 
I love the idea that things I design could help people and move technology forward as much as some of the big innovations of the past decades such as GPS and satellite communications. I want to be on the leading edge as the technology advances and takes us further and further from Earth.
I found that the academic staff were really helpful, knowledgeable and passionate about their subjects, and put a particular emphasis on studying the latest developments in the field. Within the Surrey Space Centre there are examples of all the technology needed to design and operate a spacecraft, from the clean rooms to a working ground station.
One of the things I enjoyed most about the course was the variety of class problems and assignments we were given: there's no better way to get your head around orbital dynamics than by planning how to get a spaceship to Venus!
For anyone considering enrolling on the programme, I'd advise them to be prepared to go the extra mile. The amount of information available on the course is vast and it pays to get an overview of everything, as well as concentrating on your chosen specialisms. The space industry is very competitive and it helps to know as much as possible about its many facets when looking for jobs.
Since finishing my masters I've gone on to work as a knowledge transfer partnership associate at the University and Surrey Satellite Technology Limited (SSTL), the world's leading provider of operational and commercial satellite programmes. When this project is complete, the broader knowledge I've gained through my MSc will allow me to move beyond my electronic specialism and take on a more systems-focused role." 
Discover our programmes in electrical and electronic engineering programmes, including our MSc Space Engineering.