"The biggest change I have seen in myself since I started at Surrey is my self-confidence. I started here quite shy and unsure of my capabilities, but now I feel confident in what I can achieve in my future."
"I chose Surrey as it had a brilliant reputation, particularly with regards to placement roles and securing a job after graduation. Surrey's league table results were strong and there was the opportunity for me to aim for a scholarship, which was a huge incentive. When I came to an Open Day, the enthusiasm of the lecturers and the programme opportunities all contributed to my decision to come to Surrey.
I knew that I wanted to study a degree related to business but had not considered a Business and Retail Management degree until finding it in the University of Surrey prospectus.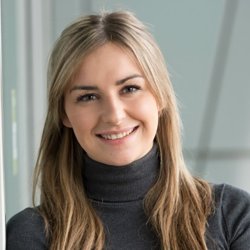 Danielle Doughty
The retail aspect makes the degree extremely relevant within the industry. I have wanted to own my own business since school and knew this degree would point me in the right direction.
The retail aspect of this degree has broadened my understanding of the subject enormously, and I have had fantastic opportunities to work with real retailers on real life business issues. My placement has also given me the confidence and skills to pursue a strong career in this industry.
The academic staff and facilities are at Surrey great. Surrey Business School is fantastic, with fully supportive and friendly staff. A lot of our lecturers have real business experience and are extremely passionate about their specialist areas, which makes learning from them a real pleasure.
"Our campus is beautiful. We are so lucky to have such a great location with such stunning views."
Living on campus gives you Surrey Sports Park, a local supermarket, a cinema and a town all on your doorstep.
I have lived in university accommodation both in my first year and my final year. There is a range of bands for you to choose which means you can find something suitable for your budget.
 My university experience has been enhanced by living in shared accommodation; it is where I met my best friends and my boyfriend. It can be difficult to share a space with lots of people, but after a little adjusting, it gives you the support network you can really need when you've moved away from home and are starting a challenging journey.
I am a member of the equestrian society and I believe that joining a club or society really does give you the opportunity to make friends and get out of your room or the Library. Riding for the equestrian society was a thoroughly enjoyable experience, competing for Team Surrey at BUCS competitions was a real highlight of my university experience.
I undertook a Professional Training placement for a year with 3M. I secured a marketing assistant position, but in reality worked as a commodity manager, responsible for two small commodities and worked to grow their sales. The real highlight for me taking the lead for the UK on launching a high profile new product introduction.
I would recommend a Professional Training placement to anyone considering studying a degree. High grades are no longer enough to secure a strong position after graduating, and securing a placement not only builds you a fantastic network, but develops skills necessary for your future and really builds your confidence."
Explore our business and management programmes, including our BSc Business and Retail Management.