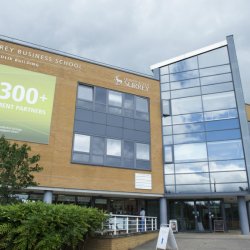 David Schulhof
"The friends I made at university and the experiences we shared together will always be my strongest memory."
David Schulhof is Head of Digital Marketing at Red Hot Penny Ltd, and studied for a BSc Business Management, graduating in 2008.
What attracted you to choose the University of Surrey and to study your particular course here?
I wanted to go to the best university for business and Surrey topped the tables in all the important metrics. I also visited the university during an open day and I instantly fell in love with the place - everything from the campus layout to the social life was exactly what I was looking for.
What is your strongest memory of your time at Surrey?
Although the course itself was fundamental to helping me get to where I am now in my career, the strongest memories I have are of the late nights in the Students Union with friends that have now become best friends. The friends I made at university and the experiences we shared together will always be my strongest memory.
Where has your career taken you since leaving Surrey?
Since leaving university it took a bit of trial and error to find my perfect role. When I went to university I didn't know exactly what I wanted to do and this was still true when I left university in 2008. After a short stint travelling across Australia I joined Zurich Financial Services on a graduate scheme in the Business Change & IT Department, with a view to becoming a project manager. After 20 months I realised that I actually wanted to work more on the agency side to allow me to experience a variety of projects, so I moved to PCubed, a management consultancy firm based in London.
My time at PCubed was short – just 3 months to be exact. When a good friend offers you the opportunity to launch a new business and become a partner it is not something you can easily turn down! James Nash, also a Surrey Business Management alumnus, set up Bike Dock Solutions (bicycle parking solutions) straight from university. It was actually an idea that started from a university module for an Entrepreneurship project. The business wanted to expand into other products to create a new business and brand called Shelterstore, based in Shoreditch. Acting as Managing Director and Partner for the group, in 3 years I helped to set up two other businesses and to devise the digital strategy.
After 3 years, the commute from Hampshire to north-east London became a struggle and my heart was in the digital marketing side of things. I moved to Red Hot Penny, formerly known as Metakinetic (e-commerce agency) where I work today.
On joining, my mandate was to grow the digital marketing side of the business into its own department. Today I manage 13 digital marketers covering everything from SEO to Social Media to Digital PR and both the department and the wider business are going from strength to strength with new clients coming on board every month.
It is safe to say my 7 year career so far has been bit of a rollercoaster, but every role I have had has helped to get me where I am now.
What do you find most enjoyable about your line of work and why?
I am a people person and I love working with varied personalities. From the team I work with to our clients, I get to interact with fantastic people every day. Working in an agency means I am constantly introduced to new clients and new personalities. No day, week or month is ever the same.
What is your career highlight so far? 
For me the stand out moment was when I was invited to Downing Street to meet the Prime Minister. Whilst working at Shelterstore we set up a business which built timber buildings and garden rooms. We decided to bid for an Olympic tender to provide judging huts for the Equestrian Dressage competition in Greenwich. We won the contract and as a result we became an official supplier to the London 2012 Olympic Games, which meant I was lucky enough to be invited to such an event.
What are your top tips for students aspiring to work in your profession?
Get as much first-hand experience as you can through work placements and internships. Digital marketing is very varied with many disciplines. For example, SEO is perfect for those with analytical and technical mind sets, whereas PR is more personable and conversational.
Many graduates I now interview say they want to do digital marketing but when we ask what area they specifically want to work in they just don't know. Internships are a great way to experience all the different sides of digital marketing so you can get a feel for what specific type of role will suit you best.
Is remaining connected with the alumni network important to you? 
Definitely. It is really important for alumni to share experiences.
Discover more about our business and management programmes, including our BSc Business Management.