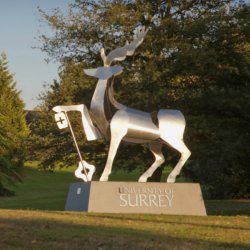 Dr Belachew Fikre
"I had very strong recommendations from friends about the credentials of my supervisors."
"My PhD was 'Rural land rights in Ethiopia: law and policy analysis'. My decision to do a PhD was informed by both the subject matter, my interest in land-related issues as well as a career advancement plan.
I studied law at undergraduate level and obtained three successive graduate degrees in land administration (Sweden, Royal Institute of Technology), international human rights law (United Kingdom, University of Essex) and Conflict, Security and Development (United Kingdom, King's College London).
I decided to come to Surrey for my PhD as I had very strong recommendations from friends about the credentials of my supervisors.
The commitment of every staff member of the University made it possible for me to finish my research on time. I was also given the opportunity to teach as part of my demonstrator hours - this helped me acquire academic skills.
"Surrey has an extremely friendly environment with high-level virtual access to latest publications."
My supervisor has helped me to achieve my aims during my PhD studies with their unfailing commitment, professionalism and interest in the subject on which I was doing my research, I was able to make headway every single year. The bi-annual and annual progress review mechanism enabled me to strictly follow the schedule as originally planned.
My supervisors' incisive comments and feedback at every stage was the driving force for my timely submission of the research report."
As a PhD student I used the library (both online and physical), Surrey Sports Park, university accommodation and PhD office space. In collaboration with other PhD students, I was able to create a blog. 
With my current role as Deputy Commissioner at the Ethiopian Investment Commission, I hope to positively and professionally influence policy making in the areas of investment, land policy design and implementation. Along the way, I also wish to do post-doctoral engagement to consolidate my research into a publication."