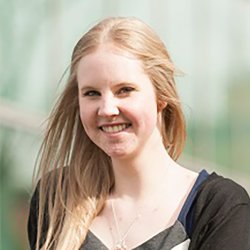 Eleanor Willetts
"The facilities at Surrey are fantastic."
Course
Electronic Engineering with Space Systems
"The University's Space Centre and links to SSTL are well known and the opportunity to specialise in Space Engineering was very attractive to me. When I visited Surrey for an open day, I loved it immediately. The campus and the people on it are always really friendly and it's nice to sit by the lake on a summer's day when you're taking a break from studying.
There's definitely an emphasis on independent learning here, but there is always help on hand if you need it.
One of my favourite modules has been studying the ins and out of the internet: it was fascinating to see how something I use on a daily basis works, and how complex it is. My supervisor has also been great and has provided me with technical assistance if I struggled with anything. Feeling supported is reassuring when you're just starting to find your way into university life.
I've definitely grown and matured a lot during my time at Surrey. I've learnt to make friends with a wide range of people, as well as to take positions of responsibilities, through various sports clubs and of course on my Professional Training placement.
The facilities at Surrey are fantastic. On the academic side, the computing and electronics labs are well-equipped and run efficiently, and the library is wonderful. Outside of studies, the Students' Union is a brilliant place to go, day or night, and the sports facilities are incredible."
Learn more about our electrical and electronic engineering programmes, including our MEng Electronic Engineering with Space Systems.