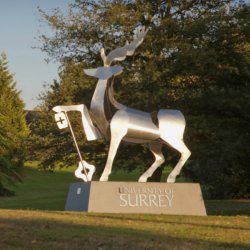 Elisabetta Iorfida
"Surrey has broadened my mind, culture and knowledge."
My aim is to have two journal publications by the time I complete my PhD. I'm working on one now, hoping to start work on the second very soon.  My supervisor supports me continuously and we have a couple of weekly meetings each week. One is with the entire research group, and the other is a face-to-face catch-up. He's available whenever I need advice.
I'll start an internship at a major Space agency in September. It's due to last three months, and will be based in Germany. I'm thrilled to have been offered the placement, as the company is well-known, and part of the Marie-Curie Network that funds my PhD. I'll be working on astrodynamics and will apply the theoretical models I have developed so far at Surrey.
When I finish my PhD I might stay in academia as a postdoctoral researcher or go into industry; but for now, I'm keeping my options open. From the first day I arrived, Surrey has broadened my mind, culture and knowledge and the SSC has become like an extended-family to me. I have a good relationship with my colleagues and research group and am looking forward to the future."
Learn more about our engineering programmes.