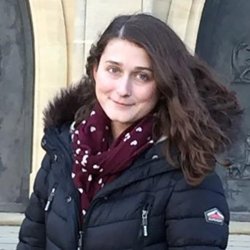 Elizabeth Davis
"One of my top criteria for choosing a university was placement opportunities because it makes finding a job after graduation easier."
Course
Civil Engineering
Placement company
Hewson Consulting Engineers
"I was matched with Hewson Consulting Engineers in the Surrey/ICE (Institution of Civil Engineers) scholarship scheme, and as part of this I spent my Professional Training placement year working for them. Hewson are involved in lots of really interesting projects, and their speciality is bridge design, which I found appealing.
One of the reasons I opted to study civil engineering was its tangible nature: I liked the idea of being able to apply my knowledge to a project I can go and visit when it's completed.
Hewson offers fantastic experience because the design work they undertake is very technical. During my placement I spent most of my time working on the Jakarta Mass Rapid Transit (MRT) project – a new system of viaducts and stations being constructed in the centre of Jakarta in Indonesia. I was assigned to specific design and checking tasks within the project, which included using design codes and finite element analysis software or written calculations to analyse structures and civils works.
My technical ability has improved massively while I've been on placement, as I've been given the opportunity to contribute to the design of concrete bridges and steel frame structures. I've also been able to develop my communication skills by working closely with other team members and external engineers. One of the things I'm most proud of is the site visit I was asked to organise for summer placement students. This required me to oversee every detail such as ordering personal protective equipment (PPE) for attendees and liaising with the sites to arrange the date and times.
Doing a placement also enabled me to take various professional development steps. I qualified for a CSCS (Construction Skills Certification Scheme) card first time, and was able to sign off some of my chartership objectives.
The opportunity to do a Professional Training placement was very significant in my decision to come to Surrey. One of my top criteria for choosing a university was placement opportunities because it makes finding a job after graduation easier. The scholarship was obviously one of the main reasons I chose Surrey but even without this, Surrey's record of placement training was impressive.
The best things about studying at Surrey have been the atmosphere of the University and the support I've had from the Department of Civil and Environmental Engineering throughout my studies. The lectures are fantastic and offer assistance outside your lectures if you need it.
When I finish my degree, I plan to join Hewson in a graduate role, and then work towards becoming a chartered civil engineer."
Discover more about our civil and environmental engineering programmes, including our BEng/MEng Civil Engineering.