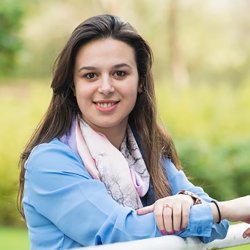 Emanuela Dyrma
"I learned how much I enjoy working in structural design and subsea engineering. It's such a wide, challenging and interesting area."
Course
Civil Engineering
Placement company
Subsea7
"I was lucky enough to spend my Professional Training year with Subsea7, the global subsea engineering and construction company. It was at an event organised by the company at Surrey that I first became interested in specialising in the field of oil and gas – which is not a common choice for female engineers – and this led to me applying to Subsea7 for my placement.
Subsea7 proved to be the best possible fit for me to develop both professionally and personally. On joining the company's Structural Design Team, my first challenge was to take on the role of project manager for the company's Scotia Field development graduate exercise, which involved me in assessing different scenarios in order for the development to complete on time.
 While this seemed overwhelming to begin with, I found that people were very willing to share their expertise, while working under time pressure helped me to discover the way things function at Subsea7.
I was then involved in the subsea development of the existing WND gas field in the Mediterranean for a major oil and gas client. This project introduced me to various different forms of analysis, including weight report (MTO) and pipeline end termination (PLET) structural analysis.
Two of my biggest achievements on placement were successfully performing lift analysis of the PLET for the WND project, and being assigned to check the design and analysis of one of the company's principal engineers. I'm also proud of the ambassadorial work I undertook while at Subsea7 which involved me giving presentations at Carshalton High School for Girls, hopefully inspiring a new generation of women to pursue a career in engineering.
A lot of the work done by a civil engineer is completed using software and I certainly gained more confidence in this area during my placement year, becoming competent on software such as STAAD Pro, Naviswork and Mathcad. I also found that while you can use software to implement the fundamental theory of structural analysis, you always need to check the results, and to do this you need to thoroughly understand the theory and its applications.
"The placement taught me some vital professional skills"
Another thing I learned at Subsea7 is how important it is for an engineer to apply the right level of precision and engineering assumptions, and the impact this has on meeting the cost and time objectives of a project.
I found that in industry, once you're given a task, you're expected to organise your own work and manage your own time, which has been a turning point in the way I do things. I also appreciate even more the importance of good note-taking in lectures as this is a very useful transferable skill for attending meetings.
Most importantly I learned how much I enjoy working in structural design and subsea engineering; it is such a wide, challenging and interesting aspect of civil engineering. I'm now considering joining the offshore industry after graduating from Surrey, and if possible completing a part-time Masters course while I work, with the long-term aim of becoming chartered by ICE (the Institution of Civil Engineers) in five years."
Find out more about our civil and environmental engineering programmes, including our BEng Civil Engineering.