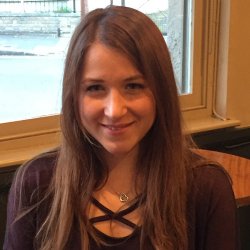 Emily Setty
"I have loved doing my PhD. I have enjoyed the opportunity to engage in critical discussions in which I have been challenged and encouraged to developed my own interests and directions."
"I have always been passionate about learning and education. From quite an early age, I knew I wanted to pursue the challenge of doing a PhD. After my undergraduate degree, I got into research in crime and justice, and my desire to do a PhD totally fitted into my career plans.
I am passionate about the power of research to shed light on complex social issues and promote social justice. I am particularly interested – from a criminological perspective – in why and how we seek to regulate and control people's behaviour and the various effects and impacts of doing so.
When I came across the phenomenon of 'youth sexting', I became excited about the potential of looking into it and trying to grapple with the ethical complexities it throws up. I am passionate about giving individuals a platform to have their say and have their voices heard, particularly those, including young people, who are sometimes not listened to on the issues that affect them.
Before starting my PhD, I completed a BSc in Psychology at the University of Surrey and an MA in Criminology and Criminal Justice at King's College, London. I have also worked in the community with ex-offenders leaving prison, as a researcher for Ministry of Justice and as a researcher for Catch22 Dawes Unit conducting research into gangs and youth violence.
I loved doing my undergraduate degree at Surrey and was really happy here. When I decided to apply for a PhD, I therefore looked into what Surrey had to offer. I liked their initial interest in what I wanted to study and I found out that I had the opportunity to be supervised by someone who had done research into youth sexting, so I felt that it was a good fit.
I have loved doing my PhD. I have enjoyed the opportunity to engage in critical discussions in which I have been challenged and encouraged to developed my own interests and directions.
"I feel that I have had a good balance between feeling supported by my supervisors, and others in the department, and being independent enough to pursue my own direction."
I have been given opportunities to talk about my research with others, both formally and informally, which has been really helpful for dealing with the isolation that can sometimes come from doing a PhD. I have also had opportunities to take up teaching and other activities within the department, which has been great for my development.
My supervisors have treated me as an individual and I feel that they have got to know me and supported me in my personal aims and ambitions. They have given me guidance with the challenges I have encountered through the research and made me feel like I can achieve the PhD no matter what adjustments have to be made along the process.
Taking responsibility for your own project – particularly a big one like a PhD – can be daunting and it can be hard to know whether you are getting it right or are good enough. My supervisors have supported me throughout and helped build my confidence and self-belief. I feel that I have been able to be really honest with them and they have never harshly judged my self-perceptions or decision-making. They have also helped me pursue other activities within the department, teaching, conferences and seminars, postgraduate development training and connecting with people beyond the PhD. They have been honest about what I need to do to achieve my goals and have given me advice and guidance throughout. I have also used funding available in the department to attend conferences and seminars around the country, which has been really helpful.
My research has been quite individual, however I have collaborated with other researchers and academics at Surrey. I have helped out on other research projects going on in the department, I have presented within the department on several occasions, I have organised a departmental symposium and acted as student rep. All these experiences, as well as departmental training and other events, have involved collaboration with academics and other PhD researchers.
I am proud of getting to grips with a vast body of literature relevant to my topic and finding my own innovative direction to pursue. I have been informed by others working in the same or similar fields that my work is unique and valuable, which has definitely made the pressures of doing a PhD worth it. I am also proud of having managed to successfully achieve my data collection plans as a lone researcher investigating a controversial, complex topic.
"I have uncovered some insightful, often surprising, findings and can honestly say that I believe it has been worth my participants' time and effort sharing their thoughts and experiences."
I have enjoyed being able to teach in the department. I did not have a great deal of teaching before starting the PhD and the opportunity to do so has really helped me develop my skills and has been a thoroughly enjoyable thing to do. I feel a lot more prepared for the realities of a career in a university department and am pleased that Surrey seems keen to give researchers opportunities to teach.
I hope to pursue a career in research and teaching, preferably within academia. I am quite open-minded about my future though, and am keen to keep challenging myself, potentially undertaking even more education and making sure my research and teaching has impact beyond academia."
Read more student profiles and explore our programmes in criminology and sociology, including our PhD in Sociology.