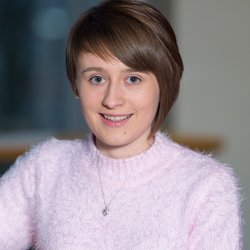 Emma Clayton
"I have really enjoyed my time at Surrey and would highly recommend the University, for its teaching, facilities and opportunities."
Course
Veterinary Biosciences
Placement company
Liphook Equine Hospital
"I had been interested in science from a young age and gained a lot of veterinary based work-experience during sixth form, which helped me make the decision to study Veterinary Biosciences at University. When applying, my original aim for this course was to lead onto Veterinary Medicine, but since then I have gained a passion for diagnostics in a laboratory environment.
I chose to study here because I am originally from Surrey, so the prospect of moving back home was exciting. The campus is located close to the centre of Guildford which is great for socialising and shopping.
The train station is right next to the campus with quick links to London. Surrey Sports Park and Guildford spectrum are nearby which both have amazing facilities.
I was also interested in the specific modules taught on the programme compared to other Universities that I had visited. Surrey was also high in the league tables, particularly for student satisfaction. 
The Open Day was the deciding factor for me. I loved that the campus is all on one site and I was impressed with the science facilities, especially the teaching laboratories. I had the chance to speak to current students and lecturers which helped me to get an insight into the course. 
"I particularly enjoy the practical sessions within the laboratory because we are putting the theory we learn into practice."
The academic staff are very approachable and keen to help you improve by offering regular feedback on your work. The staff are always keen to show future opportunities for employment within their lectures. The campus has scientific facilities which are suited to all aspects of the course, especially impressive pathology laboratories.
I am currently on my Professional Training placement at Liphook Equine Hospital. I am hired as a Laboratory Technician and work with many aspects of diagnostics, including haematology, cytology, endocrinology, biochemistry, serology and parasitology.
My job involves opening the post with the other technicians and sorting/centrifuging the samples for testing, which can be hundreds a day. We aim to test the majority of samples in the morning so the Veterinarians can report the findings to clients efficiently. I have gained a particular responsibility to test serology samples which has enabled me to use my skills gained on the course, such as the Enzyme-linked immunosorbent assay technique. I now have a keen interest in haematology, encouraged by the experienced haematologist who has taught me to how to recognise different blood disorders. I feel I can now confidently make comments about results to help make a diagnosis. 
I would definitely recommend the Professional Training placement, as I wasn't exactly sure about what career path I wanted to take but working at Liphook has now confirmed that I would like to be employed in diagnostics. 
I was also offered an amazing opportunity to study abroad and take a scholarship to Brazil for two months where I experienced working in the Vet School in Sao Paulo and got my hands dirty working on traditional farms in Pirassununga. 
Studying and living in Brazil was one of the best experiences I have ever had. I learnt so much from the professors and students. It was amazing to experience life in Brazil, I have gained new friends and have since continued to learn Portuguese. I would highly recommend taking any opportunities to study abroad."
Discover more about our veterinary medicine and science programmes, including our BSc (Hons) Veterinary Biosciences.