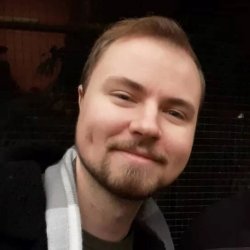 Evan Cook
"The whole atmosphere of the Surrey literature department seemed to be designed to allow each student to actualise their creativity in their own individual ways, and it made for an incredible environment and experience."
Course
Creative Writing MFA
Choosing Surrey
The opportunity to study abroad was a primary caveat for pursuing higher education in the UK. I had always sought the opportunity to live and study outside of North America. But what attracted me specifically to the creative writing program at Surrey over other UK institutions was their commitment not only to professional excellence stemming from expert educators and working authors, but to the personal development of each student as both a writer and as an individual. For this personal development, Surrey offered a unique two-year MFA program with a platform encompassing nearly all available writing mediums, from prose to poetry, to screenwriting, to playwriting.
Strongest memories of Surrey
The first thing I think of is meeting in large groups for some of the best writing workshops I have ever had. Peer review in these particular settings at Surrey, especially those led by Dr Liz Bahs, was one of the most enriching moments of developing my work. I learnt how to hone my own words from peer feedback, plus from giving feedback and developing subconscious skills, I learnt how to be an editor as well. Secondly, was the Surrey New Writers Festival, which I volunteered for in 2019 and helped manage as Assistant Festival Director in 2020. Helping to organise a literary event helped push me outside the world of my own writing and into a world of helping others develop, champion, and celebrate their work alongside my own pursuits.
Course best bits
"The professors. Hands down. Not only were each of the tutors an expert in what they taught, but they were each of them humble and approachable. I never once felt intimidated to ask questions or visit academics during office hours, and they made Surrey feel like a home away from home."
The freedom of creative expression was a fantastic aspect of the course. While there were mediums or formats to follow, depending on which class was being taken, the floor was yours and yours alone to create your own unique story the way you envisioned it without fear or penalty. The whole atmosphere of the Surrey writing department seemed to be designed to allow each student to actualise their creativity in their own individual ways, and it made for an incredible environment and experience.
Professional life after Surrey
I am in three lines of work. First, I am currently building an independent publishing company, Rebel Iris Publishing: an imprint catered to representing marginalized, underrepresented, and unknown writers through providing a platform for those in need of a voice. I serve as a managing partner and a lead editor for all submissions for company short story collections, individual publications, and our upcoming online journal, Speak 'n Heard.
Secondly, I work as a freelance content writer for an article writing service, Article-Writing.co, out of Toronto, Canada and as a science communicator for the European Space Sector, working closely with media design company, Design & Data, out of Cologne Germany and UK Analogue Mission (UKAM) out of London, UK. I have produced content for documents, articles, media campaigns, video scripts, and presentations for clients including the European Space Agency, ECMWF, CERN, and Mercator Ocean International.
Thirdly, I am in the process of developing a voice acting and voice over label for licensing and use in audiobooks, advertising, television, and more across a series of voices, tones, inflections, and styles.
Choosing a career
It was through my time at Surrey that started writing for space. One of the co-founders of UKAM was completing his masters in space psychology at the same time I was completing my MFA. He put me in touch with UKAM, which led to me pursuing a second masters at the International Space University in Strasbourg, France, which in turn led me to my work with Design & Data. Each of these opportunities arose specifically from pursuing creative writing at Surrey.
Advice to future students
"My first piece of advice would be to keep writing. Always. No matter what type of writing you are doing, your skills will grow from continuous writing."
That doesn't mean you need to write a new short story every month or finish a novel every year. A morning journal could be just as effective. But making it a habit to experiment with words and your unique perspective as a writer will help improve your writing in the long run.
In terms of publishing, have one good eye for storytelling and the other for editing. As submissions come across your desk, there are differences between good writing and good storytelling. The challenge is to discover the stories underneath the writing.