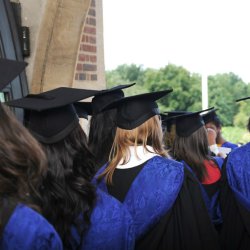 Faye Gao
Faye Gao is an Account Executive at Energy Focus, Inc. in New York.
What attracted you to choose Surrey and to study your course here?
At the time I had just graduated from my undergraduate degree in Economics. I was contemplating on whether to go to grad school straight after or look for a job first then do my MBA in a few years. Although my preference was to get an MBA, the pressure from my family became the motor for my decision to pursue a Masters degree.
The decision to apply to Surrey became clear when I saw the wide range of Masters programmes.
The programmes Surrey offered were a lot more contemporary and innovative and, knowing that Marketing was my choice, it was not difficult to make the decision to accept the offer. 
However, beyond that, after reviewing the geographic location of Surrey and coming to find out that it is within 35 minutes from central London, I knew I would be able to study in a serene environment during weekdays and still have the convenience to explore the busy capital on weekends.
What is your strongest memory of your time at Surrey – what do you picture first when you think of being here?
Surrey is not a university that a single image can illustrate. My Surrey experience truly has been an amalgamation of all the little moments and details; from the lecture halls to the library where we hung out and coughed out our dissertations, Chancellors bar and Young's kitchen where we shared our diet pet peeves, open mic night for the music lovers and Rubix club for the party animals, not to mention the beautiful lake.
The list goes on and on but it is truly something to be felt, lived and experienced for one to grasp the meaning.
What is the one thing you would say about Surrey, or the course you studied, to someone who doesn't know anything about it?
Surrey is definitely one of the top universities in the UK. It offers a diverse range of programmes that are not offered elsewhere. I studied International Marketing Management and found that the professors were helpful. You can choose to read more and research more to further elaborate on the course materials or simply fulfill your requirements as a student. The choice is yours whilst the resources are provided.
How did you change as a person during your time as a Surrey student, and how has your time here influenced your life and career since then?
I feel deeply that my Surrey experience has changed me in ways beyond my imagination if I had not attended.
Firstly, the UK is a diverse country where people from all over the world gather and Surrey is no exception. I met great friends from all over the world here; they opened my mind to different cultures, religions, lifestyles and habits. These great friends made me realize the rigidness of my old mind and thinking. I found myself learning and expanding every single day when I was here.
One of the great things about living in halls of residence was that I was able to meet and connect with students from different programmes and levels. But the real catch is the close relationships I was able to develop with my flatmates. They became my family; families from different countries, with different habits and attributes. Over time, I found that the dynamic became such a positive one because each and every single one of us were so different in our own unique ways and that we contribute to this family unit in ways that are invaluable and irreplaceable.
I learned from all of my friends how to be a better team player, how to be close with people but still respect the limits of one another, how to embrace things others truly hold close to their heart. I would say it made me realize the insignificance of selfishness and the power of sincerity.
Tell us about your career to date. 
I consider myself to be quite lucky with my professional path. The tough part is making up your mind as to where exactly you see yourself working. Sometimes your desires are challenged by the harshness of reality. Things won't always line themselves up for you according to how you envision them to be.
For me, I thought about staying in London for a year looking for a job, but a part of me kept on gravitating towards the city of dreams – New York City. It had been a long desired city for me but I have never thought I would do something to live it. Then one day, it just clicked to me that I needed to go to New York City and find things out for myself. That was when I purchased a one way ticket and never looked back.
As soon as I arrived in New York, I started attended networking events, industry conferences and seminars. The first thing I did was to print out some personal business cards to market myself to potential employers. Then I came across a few related connections, where I learned so much about the city and the culture of businesses in New York. That was when I noticed a difference in my mannerism and thinking; I grew as a person and started thinking with more of a professional mindset.
What do you find most enjoyable about your line of work and why?
My work involves a lot of networking, marketing, and delegation. I enjoy it because it is 'personalised' in a sense – how you go about completing a task or reaching a goal can be different from how another would.
Also, the quality of your work can differ based on your delegation and attitude. This is why I call it 'personalised'; you have the freedom to decide how you want to brand yourself as a professional.
What are your top tips for students aspiring to work in your profession?
In any profession, respecting your duty is the most important thing. The bottom line is, think like a boss. If you were to be the employer, what would you expect from your employee or people you work with? Focus on the deliverables! Set a goal for yourself, professionally. Try to treat each task as a piece of art to include in your portfolio.
Consistency is the key. Being able to deliver quality work consistently sets your reputation, builds your image, and brands your worth. There will always be challenges, days where you feel like you couldn't succeed because all the odds are against you. But, those will become the defining moments in your career and life if you overcome them with positivity and actions. Don't let challenges scare you or change where you want to go but let it strengthen your will and elevate the sense of achievement when you reach it.