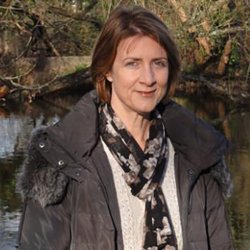 Frances Sanders
"Meeting staff and students at the Open Day confirmed that this was the right course for me."
Course
Social Research Methods
"My main reason for choosing Surrey was the course, both in terms of its content and the department's long-standing reputation for research. Having completed an MSc at Surrey ten years ago, I knew the level of teaching would be high and this is reflected in the University's position in the league tables.
Although I had already submitted my application, meeting staff and students at the Open Day confirmed that this was the right course for me and I had no hesitation in accepting the offer to study at Surrey. 
The application procedure was straightforward and easy to complete online.  
I particularly enjoy the way the course is taught.
"There is a diverse mix of learning methods which keep you on your toes and makes the learning experience interesting and fun."
I've found the academic staff to be very approachable and supportive; for example, I wasn't sure where to start when it came to tackling my dissertation topic but my dissertation tutor is very encouraging and has provided me with some great suggestions which have really helped focus my thinking.
Although I'm a mature student living outside Guildford I have been impressed with just how much is available to students studying at Surrey.  On a personal level I've found the library facilities and the careers service to be excellent.     
Being at Surrey and studying again has helped me re-discover myself, particularly my love for research and learning.  I'm really enjoying the course, learning new research methods and being in an academic environment - the tutors and other students are all friendly and supportive.  I feel much more confident about taking my career in a new direction now.        
I plan to start looking and applying for jobs over the summer whilst working on my dissertation although, having come from a research background previously and having realised how important this is to me, I haven't ruled out a PhD yet."
Discover more about our sociology programmes, including our MSc Social Research Methods.