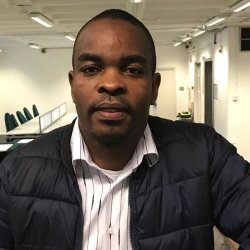 Fredrick Amariati
"Surrey is one of the best choices I ever made in terms of academic and professional development, and I am happy to be where other great people leading the energy sector around the world once were."
Course
Energy Economics and Policy
"My ideal university for postgraduate studies had been designed in my mind; I needed a prestigious academic brand, one that stood out among many in its own way, in its story of growth, ambition, its educational and professional reputation, its value in the market and where theory and practice blended seamlessly. A brand that prided itself on meeting the present and future needs of the society with ease. This is how I ended up with the University of Surrey. Ranked among the top ten universities in the UK by various ranking agencies, and located in the serene town of Guildford, the University exuded all that I needed.
My choice for Msc Energy Economics and Policy is informed by three key trends in the global arena.
World over, energy is a resource that most developing economies are struggling to harness properly, either due to absence of proper policies to guide the sector or poor implementation of the existing policies.
My country, Kenya has discovered crude oil believed to be commercially viable.
The departure from the use of fossil energy especially in Europe to energy sources that are clean, safe and environmentally friendly is an idea worth delving into and seeing if this is workable in the developing economies.
The practical sessions in the Energy Economics and Technology module that includes visits to energy supply firms, like the class visit we had to Apsely farms, is a key aspect I enjoyed most. I belong to the school of thought that believes that theory and practice must have a place where they meet, and practical visits are one such meeting point.
"The staff are very helpful, providing advice on the requirements of the programme. The lecture team boasts of a blend of seasoned academics and industry experts."
I look forward to enjoying energy regulations sessions, energy policies and understanding the world market of the fossils and renewable industry. The weekly seminars organised by the Surrey Energy Economics Centre are an eye opener, especially in preparation for dissertation writing.
The Surrey Energy Economics Centre (SEEC), one of the aspects that informed my decision to be at Surrey, has been instrumental in developing me as an individual. Providing advice on various aspects of the programme, the SEEC is an important establishment in the school. If your interest is in the wider energy field, SEEC provides you automatic free enrolment.
Being on the programme is also a direct ticket to being a part of the UK Energy Institute, and provides access to a number of training programmes. You will have access to and be a part of all the seminars, that in the long run begin to shape up your thinking in terms of academic writing and ability to defend your school of thought concerning any specific issue under discussion.
My programme blends both theory and practice to come up with an academic specimen that is reliable and valuable in the job market. This is mostly done through a number of visits to experts in the energy sector, and field visits to where energy is generated. These visits are characterised by intensive discussions on key interest areas like policies, the energy sector framework and the key question of sustainability. I believe for any aspiring energy expert, this blend of information and experience would be very helpful and worth having on your academic CV.
I live at Hazel Farm and I love it. Home is where I find serenity, and Hazel Farm provides that. At Hazel Farm, many cultures blend, from Africa to Asia to Europe and this enables understanding of how other people live. As a postgraduate student, all you need is a quiet study place, a place to learn as much as possible from others. The free bus pass enables anyone living in Hazel Farm to access any place around Guildford, which is a good way of getting to know Guildford and the beauty that lies there.
My advice to international students is: University accommodation is all you need, you will be met and greeted from the airport and assisted all the way to your room whether Hazel Farm or on campus. In terms of cost, it's cost effective in terms of how much you pay and the convenience compared to off-campus accommodation. If you live on campus, you have easy access to all the amenities on campus or at Hazel Farm you have the bus pass that can get you onto campus or anywhere in Guildford.
"University of Surrey boasts state of the art sports facilities, which for me has been the place I go to refresh myself."
Fully equipped and affordable, I really enjoy the gym facilities which I use four times a week.
Guildford's Christmas celebration was a spectacle, from the Christmas light switch on through the season. One may not understand this, but for an international student like me who would wonder what Christmas would be like, this meant a lot.
And that's why if I had the opportunity, I would want to stay here in Guildford.
So much has happened in the past four months. One of my first goals was to work hard and do well with multi-cultural relations, a feat that I am confident that I can do well now.
Surrey is one of the best choices I ever made in terms of academic and professional development, and I am happy to be where other great people leading the energy sector around the world once were. I am glad to be at the University, the academic brand where wonderful things happen. I look forward to remaining a University Ambassador even long after my programme, as the University seeks to forge healthy and progressive relationships with learning institutions around Africa through the existing programmes like WAP programmes."
Discover more about our economics programmes.