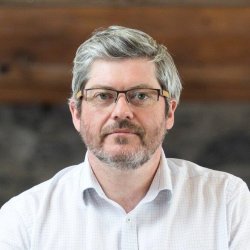 Garrett McGuinness
"The course at Surrey was extremely interesting and well organised, and I felt the modules reflected current industry thinking from a practical point of view which was refreshing."
Course
Structural Engineering MSc
Having become an engineer via the technician route and subsequently obtained my bachelors degree, I wanted to do a masters course in order to obtain chartered status. However, working in a senior position for BDP in Ireland and raising a young family did not allow me to pursue a part time degree through the traditional 'day release' route. Distance learning was therefore a godsend. It has provided me with a platform to springboard my career onto the next level. I am now employed as a Senior Structural Engineer within BDP and intend to apply for chartered status this year.
I could have chosen from a few good distance learning courses, but decided on Surrey for a number of reasons. Firstly, as a designer, I was drawn to the amount of design-related modules on offer. The comprehensive nature of these modules matched my aspirations as a modern engineer not wanting to be pigeon-holed as a concrete specialist or steel guy.
The course structure reflected my day-to-day working experience while giving me the opportunity to pursue other modules that would enhance and compliment my knowledge, and those that addressed my strengths and weaknesses. This contrasted with other courses which I felt adopted a 'one size fits all' approach.
Overall, the course at Surrey was extremely interesting and well organised, and I felt the modules reflected current industry thinking from a practical point of view which was refreshing.
As a distance learning student I was able to use the Institute of Engineers of Ireland's premises as an exam centre which was a great help and saved me time and expense each year. I am really grateful for this, and also for the flexibility and understanding shown to me when I took longer than anticipated to complete the MSc due to unforeseen circumstances.
Distance learning has given me some additional skills, forcing me to cultivate my self-discipline and time management skills in order to progress through the modules. I have absolutely no regrets about choosing the course as it has enhanced my knowledge and provided me with an opportunity I would not otherwise have had.
Discover our programmes in civil and environmental engineering including our MSc Structural Engineering.