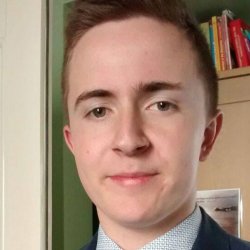 George Kroon
"I most enjoy the modules where we get to see crossovers between engineering and creative realisation. At those moments, you can really begin to see where you'd fit in in the industry."
Course
Film and Video Production Technology
"At college, I was doing quite well academically, so whilst I wasn't entirely sure university was for me at the time, I was looking at options as high in the league tables as possible. The University of Surrey sits quite high in the rankings, but I wasn't confident that it was going to be my firm choice, or even that I wanted to go to university, until the Professional Training placement was explained to me. The fact that you can earn for a year, have a break from traditional education, and gain essential contacts in the industry ahead of employment was definitely attractive.
All of this, on top of the fact that the University of Surrey was the only place to offer a programme combining my film and engineering interests, led me to successfully apply to Surrey, and I haven't regretted it for a day since.
I initially attended the open day with a view to looking at their electrical/mechanical engineering programmes, but the sight of a large, expensive looking camera drew me to the Film and Video Production Technology stand, and here I am on that very programme today.
First and foremost, this isn't a film degree! I mentioned that I was initially unsure of going to university, and that was because I have, in recent years, had two key interests: film and engineering. I didn't want to cut off either my creative or academic side by pursuing one route, so when I discovered this course it seemed the perfect combination of the two.
As you can expect, I most enjoy the modules where we get to see crossovers between engineering and creative realisation. At those moments, you can really begin to see where you'd fit in in the industry, and the more specific modules begin to make sense within the bigger picture.
"The lecturers that staff our course are some of the best in the industry, and have worked on some pretty big stuff!"
You've heard of James Bond, Batman, Harry Potter and the BBC, right? Well that's just a few of the names I could drop. It's probably the confidence in these guys, and the vision they have for the course, that gained us the funding and industry-class facilities and equipment we have.
I live on campus in a flat with 14 people who have become some of my closest friends over the course of the time that I've been here. Surrey is an incredibly lively, multicultural place, so if you thrive on that sort of atmosphere it's definitely for you. There is always something going on to get involved with, and the campus club makes those cracking nights out with your friends so much easier. Obviously, there can be issues when people are noisy, but I have found the campus staff do an exemplary job in providing a good space to study in.
I have boxed for a long time, so I was quite impressed with the quality of training in the University sports club that I've joined. Training takes up about 5 hours a week, and it can seem like quite a lot on top of Christian Union and any extra curriculum projects I take on, but with the correct time management I've found that it's all contributed towards me living a disciplined and fulfilled life at University.
For me, the best thing about the University of Surrey is its social life. When I arrived, I was quite nervous about meeting people, having never lived away from home before. However, I soon realised that everyone is in the same boat, and as soon as you put yourself out there, the chances are you'll make friends for life. I can't think of a single day when I've felt bored, lonely, or homesick as a result of the social atmosphere around me!
At first my greatest challenge was moving away from home and setting up my life as an independent person. Effectively learning to live by myself, away from my parents and everything else I'd known, whilst studying, seemed daunting but achieving that has been a massive confidence booster.
I've definitely changed since I've been at Surrey. The learning curve, both academically and in general life, was massive but it has shaped me for the better. Just things like being able to cook for myself daily, or put a deposit on a house, are all things I could never have imagined doing when I was sitting at home last year.
When I graduate in a few years I'd like to work my way up through a film production company on set, preferably working on features and fiction productions. I have a bit of time until then, so in the meantime I would also like to explore the options this course has opened for me within the Royal Signals, because joining the army has always been something at the back of my mind.
Although at times hard, my experience at the University of Surrey been thoroughly enjoyable, and most certainly worth every moment. It's got me to where I am today, and I'm excited for what the future has in store."
Read more student profiles and explore our computer games, media and film production degrees.