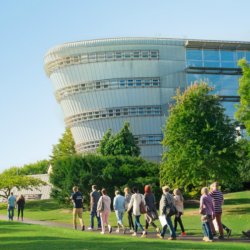 Gertrude Martindale
Gertrude describes her time at Surrey and how it helped her secure a job as a Senior Biomedical Scientist in the NHS.
Course
Biomedical Science
What attracted you to choose the University of Surrey and to study your course here?  
I immediately fell in love with the University of Surrey the day I arrived on campus. It was very different from London and had all I was looking for. There was greenery and quiet with a mix of modern and old buildings.
The town centre was lovely, with shopping malls, pubs, cafes and restaurants. Surrey was also close to the hospital, town centre, train station and Tesco. As a young adult, it had everything next door and I loved the nature of the university and town.
What is your strongest memory of your time at Surrey – what do you picture first when you think of being here?  
My strongest memory was graduation day at Guildford Cathedral. Standing there in my gown with my friends, family and amazing lecturers was a surreal moment. After three years of intense hard work and yet so much fun, I was standing there trying hard not to cry, but to embrace all the wonderful memories I had.
From the Cathedral, you can see the Library, the buildings where I was taught and all the beauty of the University and Guildford town centre. It was a sunny day and I must say my family loved it.
What were the best things about your course?
My course was very structured and the lecturers were very knowledgeable and approachable. I remember my first lecture day - the biochemistry lecturer was brilliant, and I remember him telling us to "have fun - but know that to pass, you will need to work very hard".
Indeed, that was the truth. The programme had a mix of core and optional modules with in-depth laboratory sessions. It was very intense and required a lot of extra reading and research.
I got a first in my first year and I was extremely happy. Second year was busy, as I took up other activities such as student course rep, senior resident for Stag Hill and worked part-time in a store in the town centre so that I could learn how to manage my time and gain work experience.
I took up the role as a student ambassador in my third year as I felt the need to inspire, mentor and empower first year students and prospective ones. It was a priceless experience, and I gained both work experience and leadership skills that were very useful for professional work as a new graduate. 
What do you do now and what do you find most enjoyable about your line of work?
Currently I work as a Senior Biomedical Scientist for a large NHS hospital in London, after working as Quality Lead/Specialist for some time. I find managing others and at the same time providing a service of high quality standards to our users enjoyable.
I believe that "soft skills" such as emotional intelligence, management and leaderships skills are crucial in every work environment. Time management, prioritising work and, most essentially, team work makes your working day easier. These skills are acquired over time, so the earlier one starts the better they become at it.
How did you decide what career to go into? How did your time at Surrey help you to decide?  
Surrey prepared me for my career by giving me all the tools and skills (theoretical and practical laboratory skills) I needed.
My first graduate job was at the Royal Surrey Hospital where I worked as a Medical Lab Assistant. This enabled me to further my career as a trainee Biomedical Scientist, a one-year training programme where I completed the Institute of Biomedical Sciences (IBMS) competent portfolio needed for my UK Health Care Profession Council (HCPC) registration. This license is needed to practice as a state-registered Biomedical Scientist. 
What are your top tips for students aspiring to work in your profession?
My advice for aspiring biological, biochemistry or biomedical science students is to do work placements to build confidence, knowledge and practical laboratory or hospital skills where you can. Acquire other social or soft skills too; this is very important for interview discussions. Employers want to know how you interact with others, deal with conflict and team work.
If you can, join the IBMS as an Associate or the Association of Clinical Biochemistry (ACB) as a student in your final year before completion of your degree. This will give you the opportunity to attend conferences where you can meet employers. You can also access information, articles, jobs and events on the organisations' websites which will equip you for better graduate jobs.
What aspects of being connected with the alumni network are most important or of most interest to you and why?
I would not be where I am now if I had not received help from my career mentors. I completed a part-time MSc degree last year with distinction and I aim to start a doctoral degree in the next couple of months alongside my work.
Discover our BSc Biomedical Science degree and others in the field of Biosciences and Medicine.