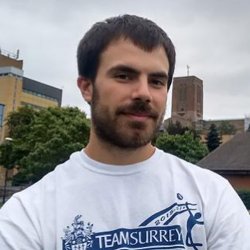 Gianmarco Addari
"I'll soon be starting a PhD at Surrey – I'm confident that the Masters course has improved my abilities to perform research, as well as increasing my critical thinking and problem solving skills."
Course
Computer Vision, Robotics and Machine Learning MSc
"I developed a strong passion for computer vision and machine learning when I worked for a company in this field following my undergraduate degree. I started searching specifically for an MSc in computer vision and found the right course at Surrey. The University's high rankings in the national league tables convinced me it was the right choice.
Throughout the course, I have especially enjoyed working on practical assignments, when I have had the chance to put what I've studied into practice. The academic staff have helped me to get the maximum benefit from the course, answering any questions that I had during lectures and giving me everything I needed to succeed.
I already had a programming background, which was very helpful as I didn't have to focus on learning the programming languages we used throughout the year. However for anyone without this background, the academic staff are on hand to help and give you all the necessary resources to improve your programming skills.
I believe that computer vision is an expanding industry that will provide great working opportunities in the future. It is becoming increasingly important in our everyday life. My dissertation was on Colour Gamut Mapping – and particularly the conversion of UHD content to HD. I chose this topic because it allowed me to take on an industrial project tackling a practical, real-world problem. Working on the project gave me a vast knowledge of a specific area, but also helped me to improve my ability to undertake research and come up with novel solutions.
I'll soon be starting a PhD at Surrey, which is in 3D-graphics. I'm confident that the Masters course has improved my abilities to perform research, as well as increasing my critical thinking and problem solving skills."
Discover more about our electrical and electronic engineering programmes, including our MSc Computer Vision, Robotics and Machine Learning.