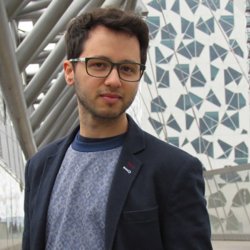 Gustavo Ferraz Trindade
Surrey student Gustavo Ferraz Trindade talks about his research and how the Ciência sem Fronteiras scheme allowed him to pursue his passion.
"Coming from a Physics background, a PhD always seemed to be the natural career pathway for me. Doing research pleases me and is what I can see myself doing in the future. Whether it is going to be in academia or not, to me, having a doctorate is a prerequisite. Finding a field to be truly passionate about was not so easy though. At the end, I found in applied science (materials characterisation) a place to use scientific knowledge to deal with "more palpable" problems.
I received my BSc in Physics and my MSc in Applied Physics both from University of Sao Paulo. As part of my Master's degree in 2012, I spent six months in Professor John Watts' laboratory.
This short spell was enough to give us several ideas for a PhD project so I suggested that I could return to Guildford with a scholarship from the Science Without Borders (SWB) Ciência sem Fronteiras scheme.
I first heard of the scheme when Surrey representatives came to University of Sao Paulo to advertise the University Global Partnership Network. That was when I met Mr. Peter Shelley, who helped a lot with my Master's exchange. We kept in touch and when I decided to come back to Guildford for my PhD, I already knew what to do. I put all my efforts in to my application and waited eagerly for the good news.
"Aside from the fantastic research group experience, I was quite delighted, and was surprised at first, by all the support given by the University."
The periodic reports for progress control and the Research Development Programme are extremely helpful.
Professor of Materials Science, John Watts, is supportive in all ways. He is an expert in our field and therefore has really high standards, which makes every student of his a specialist on the analytical techniques we use.
One characteristic that I quite like, and believe is not present in all supervisors, is that Professor Watts strongly encourages participation in conferences and sees us as truly representative personnel of the research group.
We have a large research group and, because my project deals with the development of analysis methodologies, I end up collaborating with most of the PhD students in the group. We have also a visiting post-doctoral researcher from the Nuclear Energy Research Institute in Brazil, Dr. Jose Ferreira, whom I am collaborating with.
There have been multiple outcomes of my research that have made me proud so far: My first oral presentation in an international conference last year (with subsequent paper publication), a data analysis toolbox I created that is being used by members of the group and my acceptance to give another oral presentation later on this year on an international chemometrics conference."
Explore our mechanical engineering programmes, and our PhD programmes.