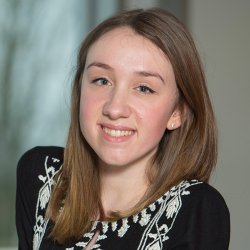 Hannah Kilvington
"Studying Sociology allows you to think about what you are learning in a different way to many other subjects, and allows you to link these ideas with the world around you, both in the past and present day."
"I studied Sociology at A Level and thoroughly enjoyed it, so decided I wanted to pursue it at degree level. I have always wanted to go into teaching, and Sociology is a useful degree to have for this field, particularly at Surrey. I am passionate about Sociology due to the ability to analyse the wider society and how different aspects of society function to maintain social order. Also, Sociology allows you to explore a range of concepts that intersect with other subjects such as Economics, Psychology and Politics.
I chose Surrey due to its impressive league table position and the variety of module options. When I was applying on UCAS, Surrey ranked sixth in the league tables, and since then this has increased with each year. The quality of the BSc Sociology course impressive me, and the range of modules to choose from appeared more diverse compared to other universities that I was interested in.
I attended both an Open Day and Applicant Day for my course. On the Open Day I was guided around the campus by a student ambassador, and was immediately taken in by the surroundings and quality of the facilities. I particularly enjoyed touring the Library, Students' Union and Surrey Sports Park, all of which were more impressive than other universities I had visited. People working around the university were very welcoming and open for questions.
"Since I have started my degree at Surrey, I have become more confident in my own academic ability."
I have also become more confident in myself and meeting new people.
My programme is a BSc which was very appealing to me when deciding where I wanted to study. This is due to the heavy emphasis on research methods and quantitative analysis throughout the programme, which allows students the opportunity to conduct their own research.
I have also enjoyed the combination of lectures and seminars on my programme, meaning there are plenty of opportunites for debate and discussion.
All academic staff on the Sociology programme are very open and willing to support students. The department operates on an 'open door' policy, meaning that lecturers and other academic staff are happy to answer any questions or queries you may have. The library facilities are excellent for my programme, with a wide access to a range of books, journals etc. Within the department, there is also access to computer labs if needed.  
During my time at Surrey I have been a part of the SocSoc society, and even took on the role of Secretary for the committee in my second year. We organised bar crawls and academic events as a way for everyone on my degree to socialise and get to know one another as we have limited contact hours during the week. By having a role on the committee, I learnt valuable skills that will be useful for employment, particularly when attending interviews. The Students' Union is excellent for social events, and Rubix is a great way to meet new friends and catch up with people. The Sports Park is excellent, and provides a wide range of facilities and events."
Explore our sociology programmes, including our BSc Sociology.