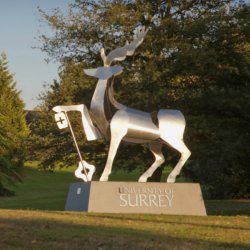 Hannah Whitmore
"I love studying at Surrey. It's a beautiful environment to be in. My Department is very supportive and so is my supervisor."
"I find it so interesting to research on the boundary of chemistry and biology, using the skills I learned in my undergraduate degree and others I've learnt during my PhD. I research natural products chemistry which involves the extraction and testing of plant compounds. My focus is on homoisoflavonoids which are very effective at stopping retinopathy. Retinopathy is retinal damage caused by unchecked blood vessel growth, which is very common in patients suffering from diabetes and 'wet' age related macular degeneration which eventually leads to blindness. The compounds have been tested in mouse models and shown to be effective and although there's still such a long way to go, it's so exciting that my work is moving ocular research forwards. Maybe one day no one with diabetes will suffer from vision loss.
I wanted to do a PhD for a variety of reasons, which factored into my decision in different amounts, however the driving force was the career I wanted to pursue.
I did my undergraduate degree, MChem Medicinal Chemistry, at Surrey and I loved it here. I was attracted to the beautiful campus, the focus on the Industrial Placement year and the excellent staff:student ratio within the Department of Chemistry. My final year project was in the Natural Products Group and I really enjoyed the research and got on well with my supervisor, which is so important for a PhD, so when I was awarded the University Research Scholarship I knew staying was the right decision.
"I strongly believe the level of support and breadth of opportunities I've been able to experience here at Surrey would not have been available or possible at other research institutes."
I love studying at Surrey. It's a beautiful environment to be in. My Department is very supportive and so is my supervisor. There hasn't been a problem that she hasn't been able to fix.
My supervisor was the person who encouraged me to undertake a PhD in the first place, helping with my application for the University of Surrey Research Scholarship.
I love the huge range of clubs and societies available here.
I've been involved in charity work, the Chemistry society and the Postgrad society, played in the University Symphony Orchestra since 2011 and been involved in quartets and recording sessions. I'm in the archery team, ballroom and latin dance club, I learnt to scuba dive here and tried jiu jitsu. I'm also the current President of the rifle club, which I started up in 2016.
There are so many job possibilities after you complete a PhD. I have a few really exciting options I'm currently exploring, including post-doctoral positions abroad and getting a job as a trainee patent attorney."
Discover our programmes in chemistry, including our PhD Chemistry.